We are delighted to announce that Dr François Gabbaï has joined Chemical Science as our newest Associate Editor.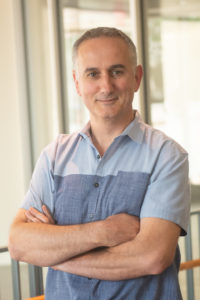 François Gabbaï was born in France and attended the University of Bordeaux before moving to UT Austin where he became a PhD student with Alan Cowley.  Upon completion of his Ph.D. in 1994, he joined the group of Hubert Schmidbaur at the Technical University of Munich, first as a postdoctoral fellow and later as an Habilitand.  Upon completion of his Habilitation in 1998, he moved to Texas A&M University where he now holds the Arthur E. Martell Chair of Chemistry.  His research interests revolve around the chemistry of p-block elements and late transition metals with applications in anion recognition, anion transport, and catalysis.  His is a Fellow of the American Chemical Society, a Fellow of the Royal Society of Chemistry and the recipient of the 2009 North American Dalton Lectureship. In 2016, he also received the ACS F. Albert Cotton Award in Synthetic Inorganic Chemistry.
François has selected 4 of his favourite Chemical Science articles that he has published over the years that he would like to share with you. We hope you enjoy reading them!
Large-bite diboranes for the μ(1,2) complexation of hydrazine and cyanide
C. H. Chen, F. P. Gabbaï
Chem. Sci., 2018, 9, 6210-6218
DOI: 10.1039/c8sc01877d
Fluorinated Antimony(V) Derivatives: Strong Lewis Acidic Properties and Application to the Complexation of Formaldehyde in Aqueous Solutions
D. Tofan, F. P. Gabbaï
Chem. Sci., 2016, 7, 6768-6778
DOI: 10.1039/c6sc02558g
Lewis acidic stiborafluorenes for the fluorescence turn-on sensing of fluoride in drinking water at ppm concentrations
M. Hirai, F. P. Gabbaï
Chem. Sci., 2014, 5, 1886-1893
DOI: 10.1039/c4sc00343h
Lewis acid enhancement by juxtaposition with an onium ion: the case of a mercury stibonium complex
T.-P. Lin, R. C. Nelson, T. Wu, J. T. Miller, F. P. Gabbaï
Chem. Sci., 2012, 3, 1128-1136
DOI: 10.1039/c2sc00904h