We are delighted to introduce Professor Paolo Melchiorre as Chemical Science Associate Editor, handling submissions in the area of organic chemistry.
Paolo currently splits his time between two institutions, the Italian Institute of Technology (IIT) in Genoa as a Tenured Senior Scientist, and the Institute of Chemical Research of Catalonia (ICIQ) in Tarragona as a Professor and Senior Group Leader. Paolo's research is centered around the development of asymmetric orga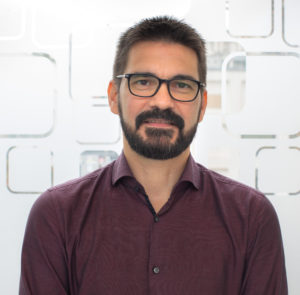 nocatalytic and photochemical processes that can be used as tools to solve problems in organic synthesis. His aim is to utilise photoorganocatalysis for the development of environmentally friendly reaction processes, presenting innovative solutions to common synthetic problems.
Paolo now joins the Chemical Science team as an Associate Editor and looks forward to handling submissions in the areas of organic chemistry, photochemistry, asymmetric catalysis and organocatalysis.
Below is a selection of articles published in Chemical Science that Paolo would like to highlight as being particularly impactful:
Characterizing chain processes in visible light photoredox catalysis
Megan A. Cismesia and Tehshik P. Yoon
Chem. Sci. 2015, 6, 5426-5434
DOI: 10.1039/C5SC02185E, Edge Article
Synergistic catalysis: A powerful synthetic strategy for new reaction development
Anna E. Allena and David W.C. MacMillan
Chem. Sci. 2012, 3, 633-658
DOI: 10.1039/C2SC00907B, Perspective
Nickel-catalyzed transamidation of aliphatic amide derivatives
Jacob E. Dander, Emma L. Bakera and Neil K. Garg
Chem. Sci. 2017, 8, 6433-6438
DOI: 10.1039/C7SC01980G, Edge Article
Site-selective bromination of sp3 C-H bonds
Shyam Sathyamoorthi, Shibdas Banerjee, J. Du Bois, Noah Z. Burns and Richard N. Zare
Chem. Sci. 2018, 9, 100-104
DOI: 10.1039/C7SC04611A, Edge Article
Harnessing non-covalent interactions to exert control over regioselectivity and site-selectivity in catalytic reactions
Holly J. Davis and Robert J. Phipps
Chem. Sci. 2017, 8, 864-877
DOI: 10.1039/C6SC04157D, Edge Article