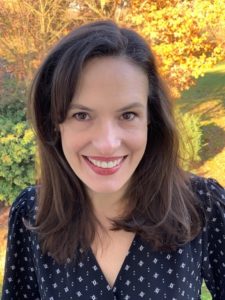 We are delighted to announce that Professor Serena DeBeer has joined Chemical Science as an Associate Editor.
Serena is a Professor and Director at the Max Planck Institute for Chemical Energy Conversion in Mülheim an der Ruhr, Germany. She is also an Adjunct Professor in the Department of Chemistry and Chemical Biology at Cornell University, an honorary faculty member at Ruhr University in Bochum, and the group leader of the PINK Beamline at the Energy Materials In‐Situ Laboratory at Helmholtz Zentrum in Berlin. She received her B.S. in Chemistry at Southwestern University in 1995 and her Ph.D. from Stanford University in 2002. From 2002-2009, she was a staff scientist at the Stanford Synchrotron Radiation Laboratory, before moving to her faculty position at Cornell.
Serena's research interests lie in the development and application of advanced X-ray spectroscopic tools for understanding processes in biological, heterogeneous and homogeneous catalysis. This includes advances to X-ray spectroscopy techniques as well as applications focused on understanding electronic structural changes in catalytic processes such as N2 reduction, CH4 oxidation, H2O oxidation and H2 production.
Serena looks forward to receiving submissions in the areas of (bio)inorganic chemistry, heterogeneous and homogeneous catalysis and spectroscopy.
Below is a selection of articles published in Chemical Science which Serena would like to highlight – all free to read! We hope you enjoy them.
Excited state electron and energy relays in supramolecular dinuclear complexes revealed by ultrafast optical and X-ray transient absorption spectroscopy
Dugan Hayes, Lars Kohler, Ryan G. Hadt, Xiaoyi Zhang, Cunming Liu, Karen L. Mulfort and Lin X. Chen
Chem. Sci., 2018, 9, 860-875
DOI: 10.1039/C7SC04055E, Edge Article
Infrared spectroscopy of the nitrogenase MoFe protein under electrochemical control: potential-triggered CO binding
P. Paengnakorn, P. A. Ash, S. Shaw, K. Danyal, T. Chen, D. R. Dean, L. C. Seefeldt and K. A. Vincent
Chem. Sci., 2017, 8, 1500-1505
DOI: 10.1039/C6SC02860H, Edge Article
Metal oxidation states in biological water splitting
Vera Krewald, Marius Retegan, Nicholas Cox, Johannes Messinger, Wolfgang Lubitz, Serena DeBeer, Frank Neese and Dimitrios A. Pantazis
Chem. Sci., 2015, 6, 1676-1695
DOI: 10.1039/C4SC03720K, Edge Article
Structurally characterized terminal manganese(IV) oxo tris(alkoxide) complex
Robert L. Halbach, David Gygi, Eric D. Bloch, Bryce L. Anderson and Daniel G. Nocera
Chem. Sci., 2018, 9, 4524-4528
DOI: 10.1039/C8SC01164H, Edge Article
Magnetic circular dichroism and computational study of mononuclear and dinuclear iron(IV) complexes
Shengfa Ye, Genqiang Xue, Itana Krivokapic, Taras Petrenko, Eckhard Bill, Lawrence Que Jr and Frank Neese
Chem. Sci., 2015, 6, 2909-2921
DOI: 10.1039/C4SC03268C, Edge Article