The fourth RSC-CRSI (Royal Society of Chemistry – Chemical Research Society of India) meeting in the UK was on Advances in Inorganic Chemistry, held in Manchester on 26th September, and Advances in Organic Chemistry, held in Oxford on 28th September. Chemical Science Assistant Editor, Sarah Whitbread, attended the event at Jesus College, Oxford.
The symposium brought together Indian and UK researchers to share their knowledge and facilitate discussions regarding future UK-India collaborations. The event was very successful with interesting talks from both UK and Indian researchers. After the talks and posters there was an insightful discussion on potential areas of collaboration in Chemical Sciences and interdisciplinary between India and the UK with a panel of top scientists in UK and India, including Royal Society of Chemistry President, Professor Carol Robinson.
Daniele Antermite from Imperial College London was awarded the Chemical Science poster prize for his work on the C(sp3)–H Arylation of Pyrrolidines and Piperidines with C(3) Directing Groups. Congratulations Daniele!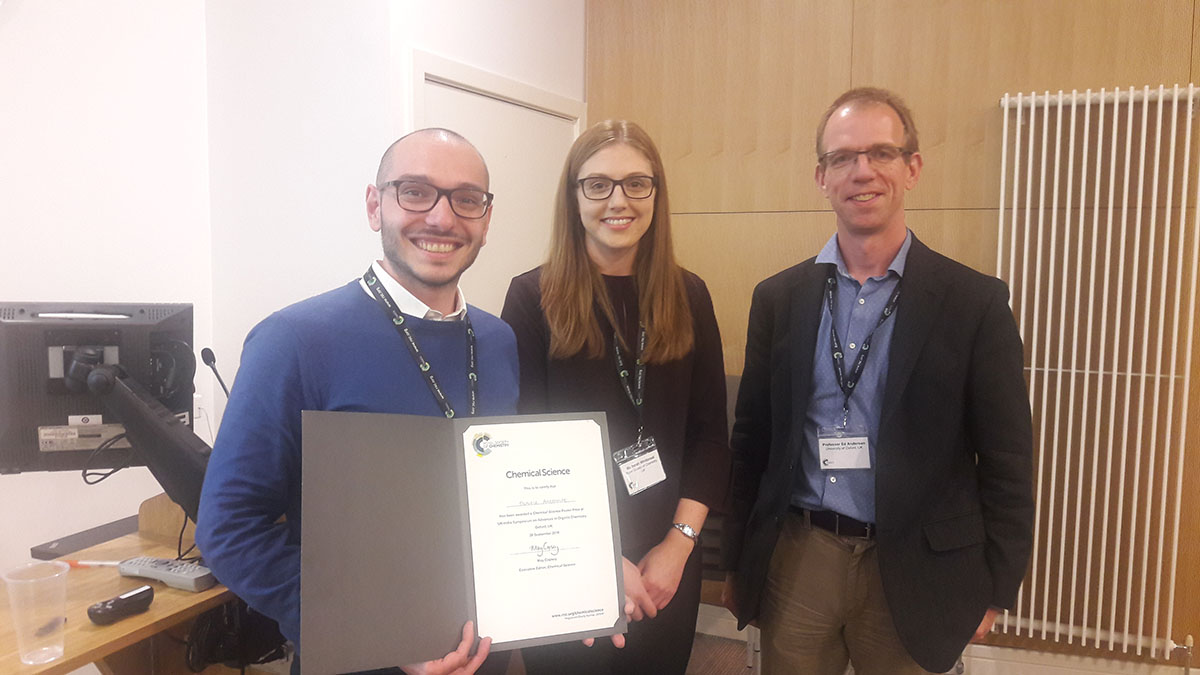 From left to right: Daniele Antermite, Imperial College London; Sarah Whitbread, Royal Society of Chemistry; Ed Anderson, University of Oxford