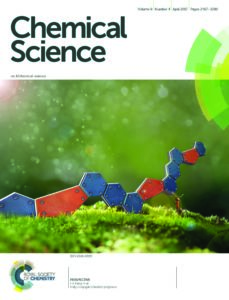 Open Access Week is taking place on 23 – 29 October 2017! This global event is entering its 8th year, and is an opportunity for the research community to learn about the benefits of open access.
What is open access? It's free, immediate, online access to published research and has widespread implications for academia, industry, medicine, and the entire society.
Here at Chemical Science, we are in our third year of being gold open access! This allows our publications, from breakthroughs in organic chemistry to research in energy and environmental chemistry, to be communicated to a worldwide audience without barriers.
Chemical Science articles published from 2015 onwards are freely available to read from our website and, as our publications charges are currently waived, it is also free for authors to publish. To date, we've published over 2,500 open access articles! Below is a selection of some of the articles that you can read for free.
Follow us on Twitter where we'll be highlighting an 'Article of the Day' during Open Access Week!
Enrichment and single-cell analysis of circulating tumor cells
Yanling Song,Tian Tian, Yuanzhi Shi, Wenli Liu, Yuan Zou, Tahereh Khajvand, Sili Wang, Zhi Zhu and Chaoyong Yang
Chem. Sci., 2017, 8, 1736-1751
DOI: 10.1039/C6SC04671A
Design of template-stabilized active and earth-abundant oxygen evolution catalysts in acid
Michael Huynh, Tuncay Ozel, Chong Liu, Eric C. Lau and Daniel G. Nocera
Chem. Sci., 2017, 8, 4779-4794
DOI: 10.1039/C7SC01239J
Recent developments in and perspectives on three-coordinate boron materials: a bright future
Lei Ji, Stefanie Griesbeck and Todd B. Marder
Chem. Sci., 2017, 8, 846-863
DOI: 10.1039/C6SC04245G