In August last year, we were delighted to welcome Professor Michelle Chang as Chemical Science Associate Editor, handling submissions in the area of chemical biology.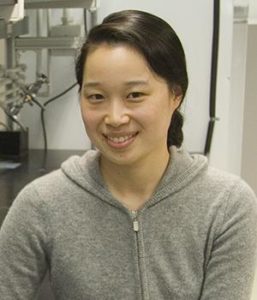 Michelle C. Chang earned a B.Sc. in Biochemistry and in French Literature at the University of California in San Diego. This was followed by research as a National Science Foundation Predoctoral Fellow and as a M.I.T./Merck Foundation Predoctoral Fellow. In 2004, she obtained her Ph.D. at the Massachusetts Institute of Technology with Professor JoAnne Stubbe and Professor Daniel G. Nocera.
After a Postdoctoral Fellowship at the University of California, Berkeley, she joined the faculty where she is currently working as an Associate Professor at the Department of Chemistry.
Michelle's team uses the approaches of mechanistic biochemistry, molecular and cell biology, metabolic engineering, and synthetic biology to address problems in energy and human health. Her group designs and creates new biosynthetic pathways in microbial hosts for in vivo production of biofuels from abundant crop feedstocks and pharmaceuticals from natural products or natural product scaffolds.
Below is a list of hot Chemical Science articles published within Michelle's area of expertise – all free to read. We hope you enjoy them!
Assembly Line Termination in Cylindrocyclophane Biosynthesis: Discovery of an Editing Type II Thioesterase Domain in a Type I Polyketide Synthase
H. Nakamura, J.X. Wang and E.P. Balskus
Chem. Sci., 2015,6, 3816-3822
DOI: 10.1039/C4SC03132F 
An enantioselective artificial Suzukiase based on the biotin–streptavidin technology
Anamitra Chatterjee, Hendrik Mallin, Juliane Klehr, Jaicy Vallapurackal, Aaron D. Finke, Laura Vera, May Marshb and Thomas R. Ward
Chem. Sci., 2016,7,673-677
DOI:  10.1039/C5SC03116H 
Next-generation disulfide stapling: reduction and functional re-bridging all in one
Maximillian T. W. Lee, Antoine Maruani, James R. Baker, Stephen Caddicka and Vijay Chudasama
Chem. Sci., 2016,7, 799-802
DOI: 10.1039/C5SC02666K
Activity modulation and allosteric control of a scaffolded DNAzyme using a dynamic DNA nanostructure
Xiuhai Mao, Anna J. Simon, Hao Pei, Jiye Shi, Jiang Li, Qing Huang, Kevin W. Plaxcob and Chunhai Fan
Chem. Sci., 2016,7, 1200-1204
DOI: 10.1039/C5SC03705K
You can submit your high quality research in the area of chemical biology to Michelle Chang's Editorial Office.