The anticancer drug cisplatin has revolutionised cancer chemotherapy. Its ability to effectively treat a wide range of cancers has made this drug a popular therapeutic choice but the side effects can be severe, including possible damage to the kidneys and nervous system. Researchers have been trying to avoid these side effects by designing systems to deliver the cisplatin to the target area, where it can be released to selectively destroy the cancer tissue.
Promising delivery vehicles for platinum-based drugs include liposomes, polymers and dendrimers, organic macrocycles, nanoparticles, viruses and carbon nanotubes. Now, James Crowley's group at the University of Otago, New Zealand, have reported the first example of cisplatin inclusion in a metallosupramolecular cage.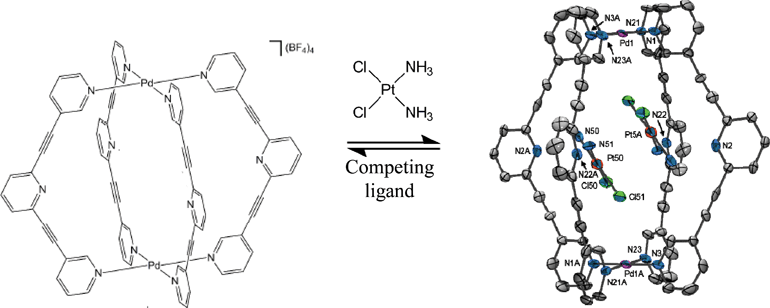 Two cisplatin molecules are bound within the cage and can be released on demand by introducing Cl– or 4-dimethylaminopyridine (DMAP). These ligands compete for binding with the cage PdII centres and induce dissociation of the cage structure. If the cage is deconstructed using Cl–, it can be reassembled by adding Ag+ ions, which precipitate the Cl– out of the system and allow the cage to re-form. This is particularly impressive since there are few reported examples of stimulus-induced cage assembly and disassembly. This controllable uptake and release of a drug molecule shows that similar systems may have real application for drug delivery in the future.
Researcher's perspective: 
We had been working on this system for a while and had some solution phase evidence that our cage was encapsulating cisplatin, but it was so exciting and satisfying the day we finally got the X-ray crystal structure to prove it irrevocably. To literally see it right there in front of us, vindicating our results, was a great feeling. In research we quite often have to deal with failures and so it's always rewarding to get a result like that to keep us motivated.
Jamie Lewis, a researcher in the Crowley group
To find out more about Crowley's metallosupramolecular cage, read the full article.
Posted on behalf of Cally Haynes, Chemical Science web writer.