Scientists in Germany have synthesised the core part of a sugar compound produced by the pathogenic bacteria responsible for meningitis – Neisseria meningitides – which could be used in a vaccine for meningococcal diseases, in particular meningitis B.
Pathogenic bacteria produce a polysaccharide layer, forming a capsule to cloak antigenic proteins on their surface that would otherwise provoke an immune response to destroy the bacteria. Currently available vaccines are based on capsular polysaccharides and provide protection against four major forms of meningitis, but not meningitis B. This is because the capsular polysaccharide for meningitis B resembles carbohydrates present in the central nervous system, so using it in a vaccine risks triggering an immune response against them as well.
Now, Peter Seeberger from the Max Planck Institute of Colloids and Interfaces, Potsdam, and colleagues have made the inner core of the lipopolysaccharide produced by N. meningitides as a safer alternative. The resulting tetrasaccharide consists of Hep (heptose) and Kdo (octulosonic acid) building blocks.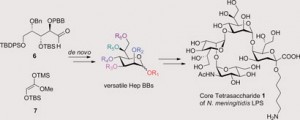 Synthesis of the core tetrasaccharide of Neisseria meningitidis lipopolysaccharide
Total synthesis of the core tetrasaccharide of Neisseria meningitidis lipopolysaccharide, a potential vaccine candidate for meningococcal diseases
You Yang, Christopher E. Martin and Peter H. Seeberger
Chem. Sci., 2012, Advance Article
DOI: 10.1039/C1SC00804H
Read the full story in Chemistry World
Link to journal article