Looking back at 2020, we would like to share with you some of the great research that has been published in RSC Advances over the year. We are proud to present a selection of the most popular 2020 materials chemistry papers, reviews and HOT articles published so far.
We hope you enjoy reading these articles and as always, all our articles are open access – free to read and accessible to everyone.
Three-dimensional directional nerve guide conduits fabricated by dopamine-functionalized conductive carbon nanofibre-based nanocomposite ink printing
Shadi Houshyar, Amitava Bhattacharyya et al. DOI: 10.1039/D0RA06556K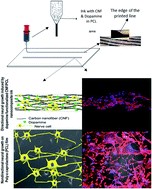 Amitava Bhattacharyya and colleagues have developed a new conducting nanocomposite ink composed of dopamine, carbon nanofibers and polycaprolactone to facilitate and guide the growth of nerve cells.
The study by Rahim Rahimi and colleauges was published in November and was covered in several news outlets, including a story in Genetic Engineering & Biotechnology News.
Over the year, our reviewers and Associate Editors have handpicked articles of particular interest and marked them as HOT. We are very pleased to highlight some outstanding 2020 materials chemistry HOT articles:
Modular design and self-assembly of multidomain peptides towards cytocompatible supramolecular cell penetrating nanofibers
Su Yang and He Dong, DOI: 10.1039/D0RA04748A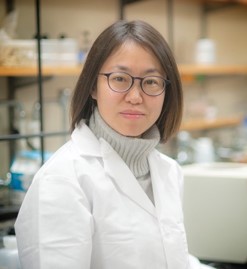 'The efficacy of chemotherapy or gene therapy, in large part, depends on the ability of chemotherapeutics or genetic materials to cross the cell membrane to reach the cytoplasm. Designing nanomaterials that can facilitate intracellular delivery of therapeutics to the cytosol is of great interests from both fundamental research and practical point of view. This work is focused on a supramolecular approach for the design, and synthesis of supramolecular cell penetrating nanofibers (SCPNs) which have potent membrane activity and excellent cytocompatibility for intracellular delivery of therapeutics and/or imaging agents.'
Read the interview with He Dong about her article here.
More HOT articles
A polypropylene mesh coated with interpenetrating double network hydrogel for local drug delivery in temporary closure of open abdomen
Ze Li, Peige Wang et al., DOI: 10.1039/C9RA10455K
Sandwich-structured poly(vinylidene fluoride-hexafluoropropylene) composite film containing a boron nitride nanosheet interlayer
Fujia Chen, Jianhua Xu et al., DOI: 10.1039/C9RA09780E
Synthesis and characterization of thermoresponsive ZIF-8@PNIPAm-co-MAA microgel composites with enhanced performance as an adsorption/release platform
Juan A. Allegretto, Matias Rafti et al., DOI: 10.1039/C9RA09729E
Large-pore-size membranes tuned by chemically vapor deposited nanocoatings for rapid and controlled desalination
Mengfan Zhu and Yu Mao, DOI: 10.1039/D0RA07629E
Read the full HOT article collection
Most popular 2020 articles
Reviews
Ultrathin permselective membranes: the latent way for efficient gas separation
Roberto Castro-Muñoz, Joaquín Coronas et al., DOI: 10.1039/D0RA02254C
Carbon and graphene quantum dots: a review on syntheses, characterization, biological and sensing applications for neurotransmitter determination
Somayeh Tajik, Mohammadreza Shokouhimehret al., DOI: 10.1039/D0RA00799D
Advances in intrinsic self-healing polyurethanes and related composites
Bertrand Willocq, Jean-Marie Raquez et al., DOI: 10.1039/D0RA01394C
Papers
Fabrication of CS/GA/RGO/Pd composite hydrogels for highly efficient catalytic reduction of organic pollutants
Lei Ge, Tifeng Jiao et al., DOI: 10.1039/D0RA01884H
Relative cooling power modeling of lanthanum manganites using Gaussian process regression
Yun Zhang and Xiaojie Xu, DOI: 10.1039/D0RA03031G
Self-assembled functional components-doped conductive polypyrrole composite hydrogels with enhanced electrochemical performances
Juanjuan Yin, Tifeng Jiao et al., DOI: 10.1039/D0RA00102C
Density functional theory study of palladium cluster adsorption on a graphene support
Riaz Hussain, Khurshid Ayub et al., DOI: 10.1039/D0RA01059F
An effective utilization of MXene and its effect on electromagnetic interference shielding: flexible, free-standing and thermally conductive composite from MXene–PAT–poly(p-aminophenol)–polyaniline co-polymer
Kanthasamy Raagulan, Kyu Yun Chai et al., DOI: 10.1039/C9RA09522E
Effects of PEDOT:PSS:GO composite hole transport layer on the luminescence of perovskite light-emitting diodes
Yuanming Zhou, Xianan Cao et al., DOI: 10.1039/D0RA04425C
High performance flexible supercapacitors based on secondary doped PEDOT–PSS–graphene nanocomposite films for large area solid state devices
Syed Khasim, Yogendra Kumar Mishra et al., DOI: 10.1039/D0RA01116A
Digging deeper: structural background of PEGylated fibrin gels in cell migration and lumenogenesis
A. I. Shpichka, P. S. Timashev et al., DOI: 10.1039/C9RA08169K
In situ polymerization of graphene-polyaniline@polyimide composite films with high EMI shielding and electrical properties
Kui Cheng, Junhe Yang et al., DOI: 10.1039/C9RA08026K
New, highly versatile bimolecular photoinitiating systems for free-radical, cationic and thiol–ene photopolymerization processes under low light intensity UV and visible LEDs for 3D printing application
Emilia Hola, Joanna Ortyl et al., DOI: 10.1039/C9RA10212D
Self-healing composite hydrogel with antibacterial and reversible restorability conductive properties
Mimpin Ginting, Hestina et al., DOI: 10.1039/D0RA00089B
Study on antibacterial properties and cytocompatibility of EPL coated 3D printed PCL/HA composite scaffolds
Lijiao Tian, Na Wang et al., DOI: 10.1039/C9RA10275B
Preparation and optimization of activated nano-carbon production using physical activation by water steam from agricultural wastes
Mohammad Amin Nazem, Saeed Shirazian et al., DOI: 10.1039/C9RA07409K
Fabrication of magnetic iron oxide-supported copper oxide nanoparticles (Fe3O4/CuO): modified screen-printed electrode for electrochemical studies and detection of desipramine
Somayeh Tajik, Mohammadreza Shokouhimehr et al., DOI: 10.1039/D0RA02380A
Molecular flattening effect to enhance the conductivity of fused porphyrin tape thin films
Giuseppe Bengasi, Nicolas D. Boscher al., DOI: 10.1039/C9RA09711B
Asymmetric molecular modification of viologens for highly stable electrochromic devices
Mark Kim, Hong Chul Moon al., DOI: 10.1039/C9RA09007J
Synthesis of polyacrylonitrile nanoflowers and their controlled pH-sensitive drug release behaviour
Qi Lian, Dongjun Wang al., DOI: 10.1039/D0RA01427C
Polyimide aerogels with novel bimodal micro and nano porous structure assembly for airborne nano filtering applications
Shahriar Ghaffari Mosanenzadeh, Hani E. Naguib al., DOI: 10.1039/D0RA03907A
Fabrication of ideally ordered TiO2 through-hole membranes by two-layer anodization
Takashi Yanagishita, Hideki Masuda al., DOI: 10.1039/D0RA07650C
High-temperature resistant water-soluble polymers derived from exotic amino acids
Sumant Dwivedi, Tatsuo Kaneko al., DOI: 10.1039/D0RA06620F

Submit to RSC Advances today! Check out our author guidelines for information on our article types or find out more about the advantages of publishing in a Royal Society of Chemistry journal.
Keep up to date with our latest HOT articles, Reviews, Collections & more by following us on Twitter. You can also keep informed by signing up to our E-Alerts.