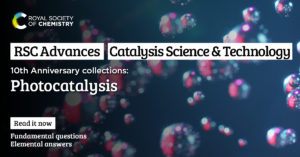 This year, we are celebrating 10 years of both Catalysis Science & Technology and RSC Advances and we have taken this opportunity to celebrate together. Looking back over the last decade, we would like to showcase some of the very best articles that have been published in our journals. Many of these papers are highly cited, providing valuable advances for further research, and some continue to be among the journals' most downloaded articles as of today.
We hope you enjoy our 10th Anniversary collections!
RSC Advances and Catalysis Science & Technology Editorial teams
Highlighted articles
Amorphous Co3S4 nanoparticle-modified tubular g-C3N4 forms step-scheme heterojunctions for photocatalytic hydrogen production
Yuanpeng Wang, Xuqiang Hao, Lijun Zhang, Zhiliang Jin and Tiansheng Zhao
Catalysis Science & Technology, Article, 2021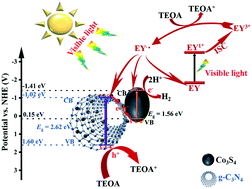 Synthesis and photocatalytic activities of a CuO/TiO2 composite catalyst using aquatic plants with accumulated copper as a template
Dongfang Lu, Osman Ahmed Zelekew, Angaw Kelemework Abay, Qitang Huang, Xiaoyun Chen and Yushan Zheng
RSC Advances, Article, 2019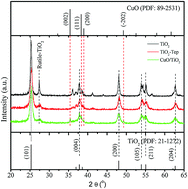 Ultrathin CdS shell-sensitized hollow S-doped CeO2 spheres for efficient visible-light photocatalysis
Ning-Chao Zheng, Ting Ouyang, Yibo Chen, Zhu Wang, Di-Yun Chen and Zhao-Qing Liu
Catalysis Science & Technology, Article, 2018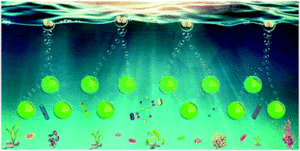 Eosin Y catalysed photoredox synthesis: a review
Vishal Srivastava and Praveen P. Singh
RSC Advances, Review, 2017

Submit to RSC Advances today! Check out our author guidelines for information on our article types or find out more about the advantages of publishing in a Royal Society of Chemistry journal.
Keep up to date with our latest HOT articles, Reviews, Collections & more by following us on Twitter. You can also keep informed by signing up to our E-Alerts.