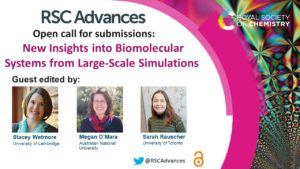 RSC Advances is delighted to announce a new themed collection titled 'New Insights into Biomolecular systems from Large-Scale Simulations'. This collection is Guest Edited by Professor Stacey Wetmore (University of Lethbridge), A/ Professor Megan O'Mara (Australian National University) and Dr Sarah Rauscher (University of Toronto).
Scope
Falling at the interface between biology, chemistry, physics, and computer science, computational biochemistry uses computer simulations to uncover the molecular level details of the structure, interactions, and function of diverse sets of biomolecules. The past decade has become a particularly exciting turning point in the field as modern computational resources are now sufficient to allow biological processes to be simulated at relevant times scales. As a result, new computational approaches have been developed that bridge the gap between simulations and experiments, allowing researchers to answer key questions about biomolecular dynamics and cellular function more broadly.
This themed collection in RSC Advances aims to highlight recent applications of computer simulations to understand the structural and functional dynamics of biomolecular systems, with the goal to extract insights from large datasets and permit direct comparisons to experimental data. An emphasis will be placed on the application of large-scale models to address unexplored areas in protein folding, intrinsically disordered proteins, protein aggregation, nucleic acid structure and function, membrane proteins, signaling molecules crossing membranes, and ligand interactions, among other topics.
How to submit
Both Papers and Review articles will be considered for this issue. All submissions will be subject to an initial assessment by Associate Editors and, if suitable for the journal, they will be subject to rigorous peer review to meet the usual high standards of RSC Advances.
Our APC is among the lowest in the industry; £750 for articles as well as reviews (corresponding to approximately $985 or €830 or CNY 6800) and there are no submission charges. Discounts and waivers are offered to authors from developing countries.
If you would like to submit to this issue please notify the Editorial Office at advances-rsc@rsc.org. The manuscript should be prepared according to our article guidelines and submitted via our online system anytime before the submission deadline of 15th June 2022. If you would like to submit but require additional time to prepare your article please do let us know by email.

Submit to RSC Advances today! Check out our author guidelines for information on our article types or find out more about the advantages of publishing in a Royal Society of Chemistry journal.
Keep up to date with our latest HOT articles, Reviews, Collections & more by following us on Twitter. You can also keep informed by signing up to our E-Alerts.