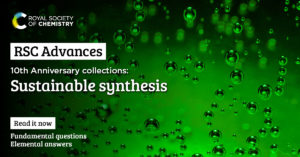 Looking back over the last 10 years, we would like to share with you some of the very best articles that have been published in RSC Advances. Many of these papers have been cited hundreds of times, providing valuable advances for further research, and some continue to be among the journal's most downloaded articles as of today. Over the years, new findings in chemistry have been published in the journal but there are also high quality reviews – they truly are gifts between researchers serving as valuable sources of information for anyone needing an update or is new to a field.
Do you have a great idea for a review? Will you be the author of our next historical paper? Please share it with the world, we welcome work in every area of the chemical sciences and related disciplines – free to read and access for everyone who needs it.
We hope you enjoy our 10th Anniversary collections!
RSC Advances Editorial team
Highlighted articles
"The green side of the moon: ecofriendly aspects of organoselenium chemistry"
Stefano Santoro, Juliano B. Azeredo, Vanessa Nascimento, Luca Sancineto, Antonio L. Braga and Claudio Santi
Review, 2014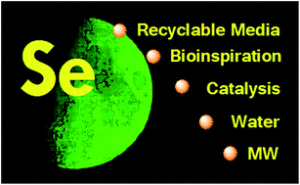 Pd nanoparticles on green support as dip-catalyst: a facile transfer hydrogenation of olefins and N-heteroarenes in water
N. Nasiruzzaman Shaikh
Article, 2019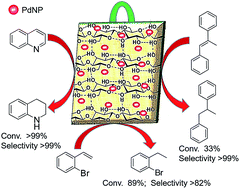 Copper-free Sonogashira cross-coupling reactions: an overview
Fatemeh Mohajer, Majid M. Heravi, Vahideh Zadsirjan and Nargess Poormohammad
Review, 2021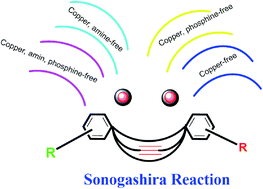 Cycloaddition of atmospheric CO2 to epoxides under solvent-free conditions: a straightforward route to carbonates by green chemistry metrics
Aazam Monfared, Robab Mohammadi, Akram Hosseinian, Shahriar Sarhandi and Parvaneh Delir Kheirollahi Nezhad
Review, 2019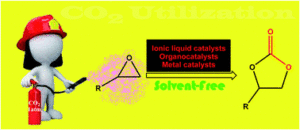 Submit to RSC Advances today! Check out our author guidelines for information on our article types or find out more about the advantages of publishing in a Royal Society of Chemistry journal.
Keep up to date with our latest HOT articles, Reviews, Collections & more by following us on Twitter. You can also keep informed by signing up to our E-Alerts.