Looking back at 2020, we would like to share with you some of the great research that has been published in RSC Advances over the year. We are proud to present a selection of the most popular 2020 physical chemistry papers, reviews and HOT articles published so far.
We hope you enjoy reading these articles and as always, all our articles are open access – free to read and accessible to everyone.
The miscibility and spatial distribution of the components in electrospun polymer–protein mats
Elizaveta Pavlova, Dmitry Bagrov et al. DOI: 10.1039/C9RA10910B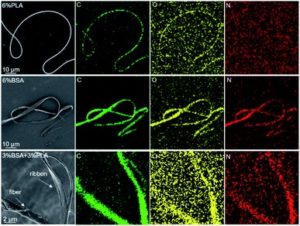 Elizaveta Pavlova and colleauges have blended two incompatible components, a protein and a polymer, in one electrospun fiber. They also demonstrated prolonged release of the protein from the electrospun mat, making the blended mat promising for biomedical applications.
The study was published in January and has been covered in several news outlets, including a piece published in The Medical News.
Over the year, our reviewers and Associate Editors have handpicked articles of particular interest and marked them as HOT. We are very pleased to highlight some outstanding 2020 physical chemistry HOT articles:
Deep eutectic solvent in water pickering emulsions stabilised by cellulose nanofibrils
Saffron J. Bryant, Karen J. Edler et al., DOI: 10.1039/D0RA07575B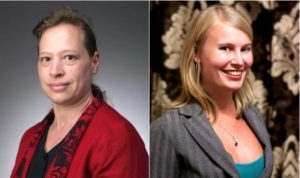 'Pickering emulsions are interesting as they can be highly stable and do not require use of surfactants which can be irritants or toxic to aquatic life. Demonstrating the formation of Pickering emulsions using sustainable cellulose particles as a stabiliser for an emulsion, where the "oil" components are also bio-derived molecules, shows the potential of these systems in more sustainable, less environmentally harmful formulations which could be replacements for products people use in large quantities every day such as creams and lotions. This would have obvious benefits in reducing harm to our water systems and the environment.'
Read the interview with the authors about their article here.
More HOT articles
Dust removal from a hydrophobic surface by rolling fizzy water droplets
Bekir Sami Yilbas, Abba Abdulhamid Abubakar et al., DOI: 10.1039/D0RA03215H
Anomalous boron isotope effects on electronic structure and lattice dynamics of CuB2O4
Rea Divina Mero, Hsiang-Lin Liu et al., DOI: 10.1039/D0RA08200G
m-s-m cationic gemini and zwitterionic surfactants – a thermodynamic analysis of their mixed micelle formation
Aleisha McLachlan, Shawn D. Wettig et al., DOI: 10.1039/C9RA09432F
Read the full HOT article collection
Most popular 2020 articles
Reviews
Graphitic carbon nitride nanotubes: a new material for emerging applications
Oleksandr Stroyuk, Dietrich R. T. Zahn et al., DOI: 10.1039/D0RA05580H
Two-photon absorption and two-photon-induced isomerization of azobenzene compounds
Marta Dudek, Katarzyna Matczyszyn et al., DOI: 10.1039/D0RA07693G
Papers
New wide-stability four-ring azo/ester/Schiff base liquid crystals: synthesis, mesomorphic, photophysical, and DFT approaches
Nagwa H. S. Ahmed, Mohamed Hagar et al., DOI: 10.1039/C9RA10499B
Organic template-assisted green synthesis of CoMoO4 nanomaterials for the investigation of energy storage properties
Irum Shaheen, Mohammad Azad Malik et al., DOI: 10.1039/C9RA09477F
Corrosion protection mechanism of Ce4+/organic inhibitor for AA2024 in 3.5% NaCl
Mohamed Gobara, Mahmoud Zorainy et al., DOI: 10.1039/C9RA09552G
Adverse effects of a hybrid nanofluid in a wavy non-uniform annulus with convective boundary conditions
Hina Sadaf and Sara I. Abdelsalam, DOI: 10.1039/D0RA01134G
Synergistic effect of potassium iodide and sodium dodecyl sulfonate on the corrosion inhibition of carbon steel in HCl medium: a combined experimental and theoretical investigation
Jianhong Tan, Youness El Bakri et al., DOI: 10.1039/D0RA02011G
The antioxidant activity of natural diterpenes: theoretical insights
Quan V. Vo, Adam Mechler et al., DOI: 10.1039/D0RA02681F
Evaporation and drying kinetics of water-NaCl droplets via acoustic levitation
Yutaro Maruyama and Koji Hasegawa, DOI: 10.1039/C9RA09395H
First principles study of electronic and nonlinear optical properties of A–D–π–A and D–A–D–π–A configured compounds containing novel quinoline–carbazole derivatives
Muhammad Khalid, Muhammad Safwan Akram et al., DOI: 10.1039/D0RA02857F
Copper halide diselenium: predicted two-dimensional materials with ultrahigh anisotropic carrier mobilities
Fazel Shojaei, Gilles Frapper et al., DOI: 10.1039/C9RA10380E
The influence of dopants on aW-phase antimonene: theoretical investigations
Qingxiao Zhou, Jiahui Li et al., DOI: 10.1039/C9RA10772J
Fast diffusion mechanism in Li4P2S6 via a concerted process of interstitial Li ions
Andreas R. Stamminger, Ralf Drautz et al., DOI: 10.1039/D0RA00932F
Interaction of cellulose and nitrodopamine coated superparamagnetic iron oxide nanoparticles with alpha-lactalbumin
Fakhrossadat Mohammadi, Sabine Szunerits et al., DOI: 10.1039/C9RA09045B
The influence of molecular vicinity (expressed in terms of dielectric constant) on the infrared spectra of embedded species in ices and solid matrices
Pilling S. and Bonfim V. S., DOI: 10.1039/C9RA10136E
Raman spectroscopy and laser-induced degradation of groutellite and ramsdellite, two cathode materials of technological interest
Simone Bernardini, Armida Sodo et al., DOI: 10.1039/C9RA08662E
Searching for double σ- and π-aromaticity in borazine derivatives
Ricardo Pino-Rios, William Tiznado et al., DOI: 10.1039/D0RA05939K
Wavelength modulation of ZnO nanowire based organic light-emitting diodes with ultraviolet electroluminescence
Runze Chen, Yun Liu et al., DOI: 10.1039/D0RA04058D
An all solid-state Li ion battery composed of low molecular weight crystalline electrolyte
Prerna Joshi, Noriyoshi Matsumi et al., DOI: 10.1039/C9RA09559D
Dynamic response study of Ti3C2-MXene films to shockwave and impact forces
Shreyas Srivatsa, M. M. Nayaket al., DOI: 10.1039/D0RA04879H

Submit to RSC Advances today! Check out our author guidelines for information on our article types or find out more about the advantages of publishing in a Royal Society of Chemistry journal.
Keep up to date with our latest HOT articles, Reviews, Collections & more by following us on Twitter. You can also keep informed by signing up to our E-Alerts.