We are delighted to share with you our latest collection of recently published articles focusing on Catalytic Organic Transformations handpicked by Associate Editor Professor Thierry Ollevier.
As the world's largest gold open access chemistry journal, all publications in RSC Advances are free to access. We hope you enjoy reading these articles.
We invite you to submit your research to this collection and give your work the global visibility it deserves.
Featured articles:
Chan–Lam coupling reaction of sulfamoyl azides with arylboronic acids for synthesis of unsymmetrical N-arylsulfamides
Suk-Young Won, Seo-Eun Kim, Yong-Ju Kwon, Inji Shin, Jungyeob Ham and Won-Suk Kim
RSC Adv., 2019, 9, 2493-2497. DOI: 10.1039/C8RA09219B
Recent metal-catalysed approaches for the synthesis of cyclopenta[b]indoles
Thavaraj Vivekanand, Bishnupada Satpathi, Siddheshwar K. Bankar and S. S. V. Ramasastry
RSC Adv., 2018, 8, 18576-18588. DOI: 10.1039/C8RA03480J
Rh(III)-catalyzed sequential C–H activation and annulation: access to N-fused heterocycles from arylazoles and α-diazocarbonyl compounds
Jiyang Jie, Haoyi Li, Songxiao Wu, Qingyu Chai, Haining Wang and Xiaobo Yang
RSC Adv., 2017, 7, 20548-20552, DOI: 10.1039/C7RA03262E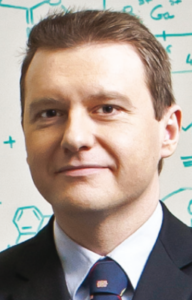 Meet the Editor
Born in Brussels, Thierry Ollevier obtained his B.Sc. and Ph.D. at the Université de Namur, Belgium, and was Postdoctorate Fellow at the Université Catholique de Louvain, Belgium under István E. Markó (1997), NATO Postdoctorate Fellow at Stanford University under Barry M. Trost (1998–2000), then Postdoctorate fellow at the Université de Montréal under André B. Charette (2000–2001).
After being appointed as an Assistant Professor in 2001 at Université Laval, he became an Associate and is currently Full Professor. Current research in his group aims at designing novel catalysts, developing catalytic reactions and applying these methods to chemical synthesis. He is active in the areas of Lewis acids, asymmetric catalysis, and synthetic green chemistry. He has served as an Associate Editor of RSC Advances since 2015 and was admitted as a Fellow of the Royal Society of Chemistry (2016).