A warm welcome to both Professor M. Angela. A. Meireles and Professor Amanda L. Garner who start as Associate Editors for RSC Advances in June!
Employed for close to 34 years at the University of Campinas (UNICAMP) in São Paulo, Brazil, Professor Meireles completed her PhD in Chemical Engineering at Iowa State University. Starting as an Assistant Professor in the School of Food Engineering in 1983, she has since become a Professor and has supervised 50 PhD dissertations, 30 MSc theses and approximately 72 undergraduate research projects. She has also coordinated scientific exchange projects between UNICAMP and European universities in France, Germany, Holland, and Spain. Angela has served as a Head of Department, as Associate Dean for Undergraduate Studies of Food Engineering and as Associated Director at the Chemical, Biological, and Agricultural Pluridisciplinary Research Center.
Professor Meireles' expertise helped her serve as the coordinator of Food Science for the Coordination for the Improvement of Higher Education Personnel (CAPES) between 2014 and 2018. She is a partner and innovative director of Bioativos Naturais, Ltd. and a current invited Professor at the School of Food Engineering at the University of Campinas.
Angela is excited to join the RSC Advances team, saying "I am truly grateful to belong to the Editorial team of this prestigious Open Access Journal: this is the future of scientific publications."
Browse a selection of work published by Angela:
Sub-2 μm fully porous and partially porous (core–shell) stationary phases for reversed phase liquid chromatography
Endler M. Borges, Mauricio A. Rostagno and M. Angela A. Meireles
RSC Adv., 2014, 4, 22875-22887
DOI: 10.1039/ C3RA45418E, Review Article
Fast analysis of phenolic terpenes by high-performance liquid chromatography using a fused-core column
Giovani L. Zabot, Moyses N. Moraes, Maurício A. Rostagno and M. Angela A. Meireles
Anal. Methods, 2014, 6, 7457-7468
DOI: 10.1039/ C4AY01124D, Paper
Fast analysis of β-ecdysone in Brazilian ginseng (Pfaffia glomerata) extracts by high-performance liquid chromatography using a fused-core column
Mauricio A. Rostagno, Isabel C. N. Debien, Renata Vardanega, Gislaine C. Nogueira, Gerardo F. Barbero and M. Angela A. Meireles
Anal. Methods, 2014, 6, 2452-2459
DOI: 10.1039/ C3AY42276C, Paper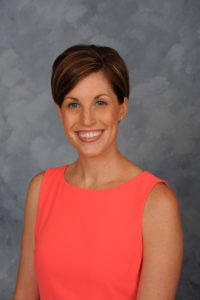 Amanda Garner received her Ph.D. in Chemistry from the University of Pittsburgh working under the supervision of Prof. Kazunori Koide and completed NIH-funded postdoctoral studies in the laboratory of Prof. Kim Janda at The Scripps Research Institute. She began her independent career in 2013 in the Department of Medicinal Chemistry at the University of Michigan.
Her laboratory uses chemical biology, medicinal chemistry and molecular and cellular biology approaches to investigate the high-risk/high-reward areas of targeting microRNAs, RNA-protein and protein-protein interactions for probe and drug discovery.
Amanda looks forward to her new role, saying "I am excited for the opportunity to help RSC Advances in promoting the high-quality and impactful chemical research being performed within the global community."
Browse a selection of work published by Amanda:
cat-ELCCA: catalyzing drug discovery through click chemistry
Amanda L. Garner
Chem. Commun., 2018, 54, 6531-6539
DOI: 10.1039/C8CC02332H, Feature Article
A click chemistry-based microRNA maturation assay optimized for high-throughput screening
Daniel A. Lorenz and Amanda L. Garner
Chem. Commun., 2016, 52, 8267-8270
DOI: 10.1039/C6CC02894B, Communication
Antagonism of a zinc metalloprotease using a unique metal-chelating scaffold: tropolones as inhibitors of P. aeruginosa elastase
Jessica L. Fullagar, Amanda L. Garner, Anjali K. Struss, Joshua A. Day, David P. Martin, Jing Yu, Xiaoqing Cai, Kim D. Janda and Seth M. Cohen
Chem. Commun., 2013, 49, 3197-3199
DOI: 10.1039/C3CC41191E, Communication
Submit your research or reviews to Angela & Amanda now, they will be delighted to receive them!
See our author guidelines for information on our article types or find out more about the advantages of publishing in a Royal Society of Chemistry journal.