Researchers from National Research Council of Canada and McMaster University have investigated the effect of molecular weight on the solubility of single-walled carbon nanotubes (SWNTs).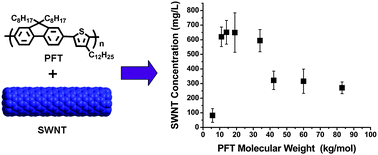 Eight poly[2,7-(9,9-dioctylfluorene)-alt-2,5-(3-dodecylthiophene)]s with molecular weights in the range 5–85 kg mol−1 were synthesised. Each polymer was mixed and ultrasonicated with SWNTs in THF. The concentration of the nanotubes in solution was then determined. It was found that the solubility of the polymer–SWNT complexes was strongly dependent on the molecular weight of the polymer. Molecular weights in the range 10–35 kg mol−1 gave the highest SWNT solubility.
Interested to know more? Why not read the full article for free: P. Imin, F. Cheng and A. Adronov, Polym. Chem., 2011, 2, 1404–1408.