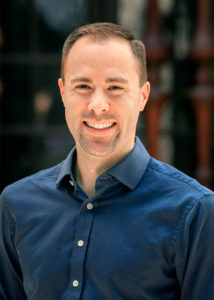 Max was born and raised in Colorado and obtained his B.S. in Chemistry from the Colorado School of Mines where he began research in synthetic polymer chemistry under the guidance of Prof. Daniel M. Knauss. After graduating in 2009, Max carried out his Ph.D. studies in the laboratories of Prof. Craig J. Hawker at the University of California, Santa Barbara.  His doctoral research focused broadly on the synthesis of functional organic materials and was recognized by the American Chemical Society with the 2016 Henkel Award for Outstanding Graduate Research in Polymer Chemistry. Max conducted postdoctoral work with Prof. Jeffrey S. Moore at the University of Illinois, Urbana-Champaign as a Beckman Institute Postdoctoral Fellow prior to joining the Division of Chemistry and Chemical Engineering at Caltech as an Assistant Professor of Chemistry in September 2017.  Research in the Robb group seeks to advance the fundamental understanding of mechanical force transduction at the molecular level and develop strategies to create force-responsive molecules and functional materials. The group's research has been recognized by a number of awards including the Beckman Young Investigator award, Sloan Research Fellowship, NSF CAREER award, Camille Dreyfus Teacher-Scholar award, Rose Hills Foundation Innovator Award, and the PMSE Young Investigator award.
Read Max's Emerging Investigator Series article, Mechanochemical reactivity of a multimodal 2H-bis-naphthopyran mechanophore, DOI: D3PY00344B.
Check out Max's thoughts on the future directions for his field of research below:
In your opinion, what are the most important questions to be asked/answered in this field of research?
The ability to design polymers that distinguish between different stress states through discrete visual cues will enable new opportunities for stress sensing. However, this type of behavior is still relatively rare in soft materials.  
Keep with Max's research and the latest news from his lab by following him on twitter @maxwell_robb and @therobbgroup, or check out his lab's website.