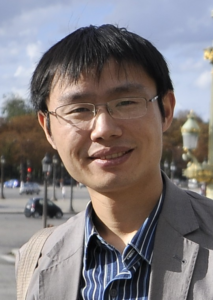 Saihu Liao studied chemistry at Huazhong University of Science and Technology, and obtained his bachelor degree in 2005. After two years of graduate study with Prof. Yuefa Gong at the same university, he joined Prof. Benjamin List's group at the Max-Planck-Institute for Coal Research (MPI-KOFO), Germany, where he obtained his doctoral degree in organic chemistry in 2011. Then, he returned to China and joined Prof. Yong Tang's group as a research associate at the Shanghai Institute of Organic Chemistry (SIOC), Chinese Academy of Sciences. In September 2016, he started his independent career at Fuzhou University, where he was promoted to full professor in 2017. His current research focuses on the development of new organocatalysts and new strategies for polymerization, with a special concern to photo-control and tacticity-regulation.
Read Saihu's Emerging Investigator article, 'Organocatalytic Cationic Degenerate Chain Transfer Polymerization of Vinyl Ethers with Excellent Temporal Control'
How do you feel about Polymer Chemistry as a place to publish research on this topic?
We are interested in the exploration of organocatalysis in polymerization, with a focus on the development of organic photocatalysts and chiral catalysts. As one of the leading journals in polymer chemistry with broad readership, Polymer Chemistry is a wonderful place to publish our research on this topic. We quite appreciate the timely and professional processing of the manuscripts, and also the constructive comments and suggestions from reviewers.
What aspect of your work are you most excited about at the moment and what do you find most challenging about your research?
The most exciting moment could be the time we found some new catalysts were surprisingly effective. A challenging thing to us is just to predict the performance of a new catalyst, e.g. its ability in the temporal or tacticity control.