It is with great pleasure that we announce Priv.-Doz. Dr. Frederik Wurm (Max Planck Institute for Polymer Research) as the recipient of the 2019 Polymer Chemistry Lectureship.
This award, now in its fifth year, honours an early-career researcher who has made significant contribution to the polymer chemistry field. The recipient is selected by the Polymer Chemistry Editorial Board from a list of candidates nominated by the community.
Read on to find out more about Frederik…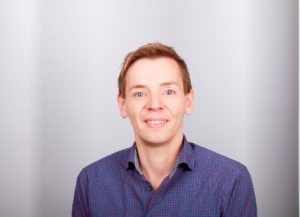 Frederik received his PhD in 2009 from the Johannes Gutenberg-Universität Mainz (Germany) working on nonlinear block copolymers. From 2009 to 2011 he was a postdoctoral Humboldt fellow at the Ecole Polytechnique Fédérale de Lausanne (EPFL, Switzerland) focusing on novel bioconjugation strategies. In 2012 he joined the Max Planck Institute for Polymer Research (Germany) as a group leader in the department of Katharina Landfester. He is also junior faculty of the Max Planck Graduate Center (MPGC). He finished his habilitation in 2016 about "Polyphosphoresters and Smart Nanocarriers".
Frederik has published over 150 research articles and received several awards such as the Georg Manecke Award and the Reimund Stadler Award of the Gesellschaft Deutscher Chemiker (GDCh), the European Young Chemist Award, and the Lecturer Award of the German Chemical Industry Fund.
Frederik leads the research group "Functional Polymers" and develops new degradable and molecularly adjustable polymers. He has been particularly interested in biodegradable polyesters based on phosphoric acid in recent years. He has developed new bioinspired materials to facilitate their interaction with biomaterials, e.g. in human blood. Furthermore, such polyphosphoesters are interesting as alternatives to conventional plastics, with the ecological advantage of their degradability.
Frederik will present his lecture and receive his award at the European Polymer Congress in Crete in June.
To learn more about Frederik's research have a look at some of his publications in Polymer Chemistry
Temperature responsive poly(phosphonate) copolymers: from single chains to macroscopic coacervates
Thomas Wolf,  Johannes Hunold,  Johanna Simon,  Christine Rosenauer,  Dariush Hinderberger  and  Frederik R. Wurm
Polym. Chem., 2018,9, 490-498
Triazolinedione-"clicked" poly(phosphoester)s: systematic adjustment of thermal properties
Greta Becker,  Laetitia Vlaminck,  Maria M. Velencoso,  Filip E. Du Prez  and  Frederik R. Wurm
Polym. Chem., 2017,8, 4074-4078
Surface-attached poly(phosphoester)-hydrogels with benzophenone groups
Greta Becker,  Zhuoling Deng,  Maria Zober,  Manfred Wagner,  Karen Lienkamp  and  Frederik R. Wurm
Polym. Chem., 2018,9, 315-326
The living anionic polymerization of activated aziridines: a systematic study of reaction conditions and kinetics
Elisabeth Rieger,  Tassilo Gleede,  Katja Weber,  Angelika Manhart,  Manfred Wagner  and  Frederik R. Wurm
Polym. Chem., 2017,8, 2824-2832
N-Ferrocenylsulfonyl-2-methylaziridine: the first ferrocene monomer for the anionic (co)polymerization of aziridines
Tatjana Homann-Müller,  Elisabeth Rieger,  Arda Alkan  and  Frederik R. Wurm
Polym. Chem., 2016,7, 5501-5506
Side-chain poly(phosphoramidate)s via acyclic diene metathesis polycondensation
Alper Cankaya,  Mark Steinmann,  Yagmur Bülbül,  Ingo Lieberwirth  and  Frederik R. Wurm
Polym. Chem., 2016,7, 5004-5010
We would like to thank everybody who nominated a candidate for the 2019 Polymer Chemistry Lectureship. The Editorial Board had a very difficult task in choosing a winner from the many excellent and worthy candidates.
Please join us in congratulating Frederik on winning this award!