'Cellulose nanocrystals (CNCs) have gained significant attention in the past two decades, mainly due to their high axis-modulus, reinforcing ability in various polymer matrices, vast availability in a diverse range of natural sources such as cotton, wheat straw, wood, sisal, banana stems, ramie, tunicates, bacteria and ease of isolation via acid or enzymatic hydrolysis, and ultrasonic treatment. One of the interesting features of CNCs is that the hydroxyl groups on the surface can serve as a handle to impart CNC/polymer nanocomposites with water-responsive mechanically adaptive characteristics.'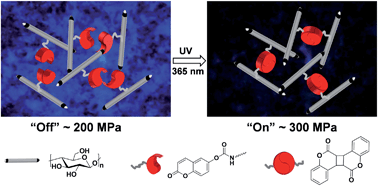 Exploiting the coumarin dimerization mechanism upon UV irradiation at 365 nm, Foster and co-workers developed mechanically adaptive nanocomposites in which light can be used to change the materials properties. CNCs derived from tunicates were functionalized with 7-coumaryl-(6-isocyanatohexyl) carbamate to afford coumarin-derivatized CNCs (Cou-CNCs). Light-responsive nanocomposites were prepared by reinforcing a rubbery ethylene oxide–epichlorohydrin copolymer (EO–EPI) matrix with Cou-CNCs. The as-prepared nanocomposites show a significantly increased tensile storage modulus (E′) in comparison to the neat EO–EPI. The optically induced reaction between Cou-CNCs also reduced the swelling of the EO–EPI/Cou-CNC nanocomposites upon exposure to water as well as the extent of water-induced softening.
Photoswitchable nanocomposites made from coumarin-functionalized cellulose nanocrystals by Mahesh V. Biyani, Christoph Weder and E. Johan Foster Polym. Chem. 2014, 5, 5501-5508.
Julien Nicolas is a web-writer and advisory board member for Polymer Chemistry. He currently works at Univ. Paris-Sud (FR) as a CNRS researcher.