Block copolymers based on the same type of monomer (e.g., either vinyl or cyclic monomers) are traditionally prepared using a single "living" polymerization technique. Recently, novel block copolymers with interesting properties have been prepared by combining two or more "living" polymerization chemistries to copolymerize dissimilar monomers. Sequential polymerizations are most commonly used for such syntheses. In principle, simultaneous polymerization can also lead to the synthesis of block copolymers. In practice, there are some examples in the literature for which incompatibility problems have been overcome to combine different polymerization techniques for the synthesis of well-defined block copolymers in a single step.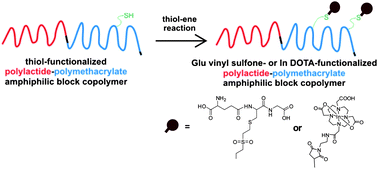 In this publication, Themistou, Battaglia and Armes reported on the one-pot metal-free ring-opening polymerization (ROP)–reversible addition–fragmentation chain transfer (RAFT) synthesis of biocompatible linear and branched amphiphilic diblock copolymers based on a biodegradable aliphatic polyester (PLA) and methacrylic monomers (such as 2-(dimethylamino)ethyl methacrylate (DMA) or oligo(ethylene glycol) methacrylate (OEGMA)), using a novel hydroxyl-functionalized trithiocarbonate-based chain transfer agent. These amphiphilic diblock copolymers self-assembled in dilute aqueous solution, leading to various copolymer morphologies depending on the block compositions. Two novel disulfide-functionalized PLA-branched block copolymers were also synthesized using simultaneous ROP of LA and RAFT copolymerization of OEGMA or DMA with a disulfide-based dimethacrylate. The disulfide bonds were reductively cleaved using tributyl phosphine to generate reactive thiol groups. Thiol–ene chemistry was utilized for further derivatization with thiol-based biologically important molecules and heavy metals for tissue engineering or bioimaging applications, respectively.
Facile synthesis of thiol-functionalized amphiphilic polylactide–methacrylic diblock copolymers by Efrosyni Themistou, Giuseppe Battaglia and Steven P. Armes Polym. Chem. 2014, 5, 1405-1417.
Julien Nicolas is a web-writer and advisory board member for Polymer Chemistry. He currently works at Univ. Paris-Sud (FR) as a CNRS researcher.