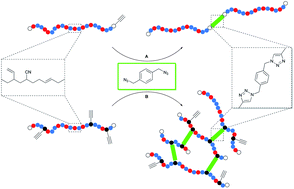 a
-Functional nitrile butadiene rubber (NBR) building blocks prepared by RAFT were employed in the copper catalyzed 1,3-dipolar azide–alkyne cycloaddition (CuAAC) upon addition of 1,4-bis(azidomethyl)benzene, providing the first successful approach to employ the orthogonal conjugation technique on this technically important class of synthetic rubbers. Moreover, the use of CuAAC was extended towards the side-chain modification of acrylonitrile–butadiene rubbers as well as applied in the synthesis of branched and cross-linked NBR structures. With this toolbox in hand, a wide variety of future applications is accessible, as for example the synthesis of block-copolymers or the use of acrylonitrile–butadiene rubbers in covalent surface immobilization.
High molecular weight acrylonitrile–butadiene architectures via a combination of RAFT polymerization and orthogonal copper mediated azide–alkyne cycloaddition by Christoph J. Dürr ,  Sebastian G. J. Emmerling ,  Paul Lederhose ,  Andreas Kaiser ,  Sven Brandau ,  Michael Klimpel and Christopher Barner-Kowollik Polym. Chem. 2012, 3, 1048-1060.
To keep up-to-date with all the latest research, sign up for the journal's e-alerts or RSS feeds or follow Polymer Chemistryon Twitter or Facebook.