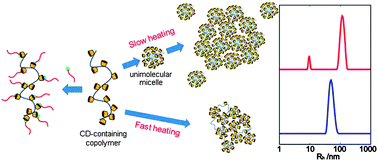 Micellization of block copolymers has been one of the hottest research areas in chemistry and materials science for more than thirty years. In recent years more and more functional groups including supramolecular hosts or guests have been successively introduced into copolymers.
Sakai et al. reported a series of random copolymers of poly[(N-isopropyl acrylamide)-co-(aminoethyl methacrylate-b-cyclodextrin)] (PNiCD) and investigated their properties by SLS and DLS. They showed that the copolymer has a rather rigid conformation, which can be attributed to the presence of the pendent bulky CD groups along the copolymer backbone. Interestingly, when the neat copolymer is heated above its LCST, thermoinduced self-assembly takes place, leading to aggregates, the size of which depends on the heating rates.
A new story of cyclodextrin as a bulky pendent group causing uncommon behaviour to random copolymers in solution by Fuji Sakai, Guosong Chen and Ming Jiang Polym. Chem. 2012, 3, 954-961.
To keep up-to-date with all the latest research, sign up for the journal's e-alerts or RSS feeds or follow Polymer Chemistryon Twitter or Facebook.