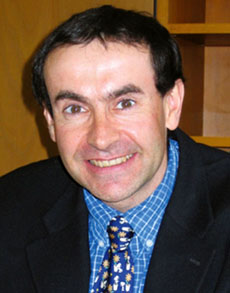 Directeur de Recherches at CNRS, Bruno Ameduri leads the "Fluoropolymers and Energy" team at the "Engineering and Macromolecular Architectures" Team of Institute Charles Gerhardt in Montpellier, France. His main interests focus on the synthesis and the characterization of fluorinated monomers (including cure site monomers and telechelics), telomers and copolymers for various applications such as surfactants, elastomers, coatings, and polymers related to energy (fuel cell membranes, polymer gel electrolytes for Li-ions batteries and PV). Coauthor of one book, 22 reviews or chapters of books, more than 210 peer review publications and coinventor of more than 55 patents, he is also a member of the American and French Chemical Societies and is a member of the Editorial Boards of the Journal of Fluorine Chemistry, European Polymer Journal, Polymer Bulletin, and Associated editor of Polymer Journal (Japan). Out of research, Bruno enjoys cycling, skiing, jogging and playing soccer and tennis with his 2 sons,  and is an active member of the "Rire" Association and, dressed as a clown, visits sick children in hospitals of Montpellier and abroad.
Please follow the link for further information on Bruno's laboratory and his recent paper in Polymer Chemistry.
What was your inspiration in becoming a chemist?
I had good teachers at the secondary school who showed their motivation and interested me and other pupils. Fortunately, we had pratcial works (every friday morning I remember!) and this was quite funny.
I was also fortunate to get execllent Professors at the University and abroad when I had the chance to go to Canada…last centuary!
What was the motivation behind the research in your recent Polymer Chemistry paper? (DOI: 10.1039/C1PY00394A?
Regretably, people, mammals, fish and birds have fluorine (especially fluorinated surfactants such as PFOA and PFOS)  in their blood and these "PCBs of the XXIst centuary" are spread all other the Earth. There was a emergency to find out new products that should be able to decompose and so far I cannot guaranty that those sugegsted in this article can be metabolized or decomposed through humun systems.
Why did you choose Polymer Chemistry to publish your work?
First, I was quite angry against several journals who rejeceted right away the draft…even after explaining to the Editor that he (she) had fluorine in his (her) blood. Then, I promised to Dave Haddleton to submit a MS in that nice journal….and you know the story.
In which upcoming conferences may our readers meet you?
Mostly in Fluorine Chemistry conferences (India-Feb. 2012), in Valencia , Spain, for the Valencia Fluorine days (May 2012); Kyoto for the Intenational Conference in Fluorine Chemistry, (July 2012) and Fluoropolymers (Oct. 2012).
How do you spend your spare times?
Biking and playing football with my sons (but they are now too fast for me-they train me nicely!) or colleagues from the Lab (big competition between permament and non-permanent researchers!!)…and volunteer as cliniclown in children Hospitals (Montpellier, USA, and Japan). This "once a month activity" is an excellent release of stress, source of humbleness, and shows me other realities of our world…
Which profession would you choose if you were not a scientist?
Hard to say…something involving both sport and kids could fit well…