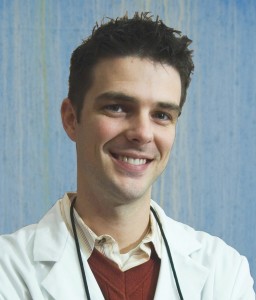 Brent Sumerlin is Harold Jeskey Trustee Associate Professor in Department of Chemistry at Southern Methodist University. His research group focuses on well-defined polymeric materials with selected functionality, composition, and molecular architecture.  Their particular interest is on polymers that are water-soluble and stimuli-responsive. Such "smart" polymers have the ability to self-assemble or dissociate in solution in response to changes in their surroundings. Potential target applications include controlled and targeted drug delivery, surface modification, and the synthesis of self-healing materials. Their further interests are at the interface of bio-, organic, and polymer chemistry, with particular focus on fusing the fields to prepare materials with synergistic properties. Please follow the link for further information on Brent's research group and his recent paper in Polymer Chemistry.
What was your inspiration in becoming a chemist?
One of my high school chemistry instructors, Mr. Philip R. Dail, taught with such infectious enthusiasm that it became impossible for me to imagine becoming anything other than a chemist.
What was the motivation behind the research in your recent Polymer Chemistry paper?
For the last few years, we have attempted to capitalize on our expertise in the area of water-soluble polymers and controlled polymer synthesis to modify proteins with polymers for potential therapeutic and catalytic applications. Exciting work by several groups has shown that controlled radical polymerization (CRP) is ideal for the preparation of polymer-protein conjugates. In our opinion, one of the most significant qualities of CRP is that it enables the preparation of block copolymers by the sequential polymerization of two monomers. Therefore, we thought it was important to demonstrate the potential of CRP for the direct synthesis of block copolymer-protein conjugates.
Why did you choose Polymer Chemistry to publish your work?
We approach the synthesis of polymer-protein conjugates from the perspective of polymer chemists rather than biochemists. One basic method to demonstrate control during a "living" polymerization process is to investigate the retention of end group functionality by chain extension during a second polymerization. Indeed, we thought any polymerization we conducted by grafting from a protein should be judged by the same criteria that would be applied to controlled polymerizations with more traditional low molecular weight initiators (or chain transfer agents, in the case of RAFT). Therefore, we think these findings are exciting and fundamental polymer chemistry results and that Polymer Chemistry is the ideal venue in which to highlight them.
In which upcoming conferences may our readers meet you?
I will attend the Polymers Gordon Research Conference at Mount Holyoke College in Massachusetts in June 2011 and the National Meeting of the American Chemical Society in Denver, Colorado in August 2011. The results from our recent paper will be presented in Denver in the International Year of Chemistry Symposium: Controlled Radical Polymerization that I am co-organizing with Professors Krzysztof Matyjaszewski (Carnegie Mellon University) and Nicolay Tsarevsky (Southern Methodist University).
How do you spend your spare time?
Generally, I'm happily chauffeuring my two daughters to school, ballet, gymnastics, and birthday parties. If I have time on my own, I enjoy reading.
Which profession would you choose if you were not a scientist?
I think I would also have enjoyed journalism. I would love the opportunity to travel and cover current events – especially if I were allowed to editorialize!