Collaborative research between groups at University of Strathclyde and University of Montreal has yielded a strategy for producing polymer bioconjugates with enzymatic and thermal responsiveness.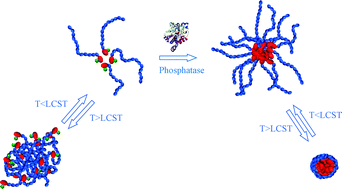 The thermo-responsive properties of the polymers were provided by poly(2-isopropyl-2-oxazoline), while the self-assembly properties were from fluorenylmethoxycarbonyl–tyrosine, which undergoes self-assembly by a phosphatase-triggered mechanism. It is thought that these systems could release bioactive payloads in response to cell surface phosphatases, which could be used to control and direct cellular behaviour. Work on this is ongoing.
Interested to know more? Why not read the full article for free: Pier-Francesco Caponi, Xing-Ping Qiu, Filipe Vilela, Françoise M. Winnik and Rein V. Ulijn, Polym. Chem., 2011, 2, 306–308.
This paper is part of an Emerging Investigators themed issue of Polymer Chemistry. Please click here to read the full listing of papers.