Keary and Thomas join recent past winners Raffaella Buonsanti (2019), Corinna Schindler (2019), and Bill Morandi (2020). Learn more about Keary and Thomas below.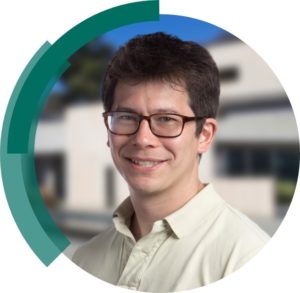 Keary Engle received his PhD in chemistry from Scripps Research and his DPhil in biochemistry from Oxford University in the unique, five-year Skaggs-Oxford Scholarship program that he completed in 2013. Within the program, he trained with renowned chemists Jin-Quan Yu at Scripps Research and Véronique Gouverneur and John M. Brown at Oxford. Among his many honours, Keary has been awarded a 2019 Camille Dreyfus Teacher-Scholar Award, the 2019 Novartis Early Career Award in Chemistry, a 2020 Cottrell Scholar Award, a 2020 Eli Lilly Organic Chemistry Award, the 2020 Amgen Young Investigator Award, and most recently, a 2021 NSF CAREER Award.
He is currently a Professor in the Department of Chemistry at Scripps Research. His group harnesses the power of catalysis to advance the efficiency, effectiveness and sustainability of chemical synthesis. You can learn more about Keary's group and his research on Twitter @englelab.
Learn more about Keary's research by reading his recent Feature Article in ChemComm:
Recent advances in palladium-catalyzed (hetero)annulation of C=C bonds with ambiphilic organo(pseudo)halides
Keary M. Engle et al.
Chem. Commun., 2021, 57, 7610-7624
This article will be free to read from 1st December 2021 – 1st January 2022.
Tom was awarded his PhD in 2012 at the University of Cambridge, where he worked with Professor Anthony Cheetham FRS on the physical properties of hybrid frameworks. He has received several fellowships and awards, including a Royal Society Research Fellowship (2016), the Woldemar A. Weyl award for glass science (2019), the Philip Leverhulme Prize in Chemistry (2019) and the Royal Society of Chemistry Harrison Meldola Memorial Prize (2020). He has held visiting positions at the University of Kyoto, the Wuhan University of Technology, and the University of Canterbury New Zealand | Te Whare Wānanga o Waitaha, and is vice-chair of the international MOF advisory committee, and outgoing chair of the Royal Society of Chemistry Porous Materials Group.
He is currently an Assistant Professor at the University of Cambridge, where his research group are best known for the discovery of hybrid melt-quenched glasses, and seminal works exploring the interface of the coordination polymer, MOF and glass domains. Find out more about Tom and his group on Twitter @thomasdbennett.
Learn more about Thomas' research by reading his recent Open Access Communication in ChemComm:
Glassy behaviour of mechanically amorphised ZIF-62 isomorphs
Thomas D. Bennett et al.
Chem. Commun., 2021, 57, 9272-9275            
As part of the Lectureship award, Keary and Thomas will each be presenting lectures over the coming 12 months. Details of the lectures will be announced in due course but keep an eye on Twitter @ChemCommun for details!
Keep up-to-date with our latest journal news on Twitter @ChemCommun or via our blog! Learn more about ChemComm online!
Sign up for a Chemistry Briefing: if you would like to stay informed about new resources and publishing updates, please opt in to our email newsletter.