Carbazole based polycyclic aromatic hydrocarbon (PAH) are considered as an important material for organic LED applications. The scalable synthetic approach for PAH still lacks efficiency due to the formation of unwanted by-products. The other issues are often related to high cost of catalysts, harsh reaction condition and multi-step methods. In this aspect, researchers from Indian Institute of Technology Kharagpur, developed a transition metal-free rapid protocol for structurally versatile PAHs.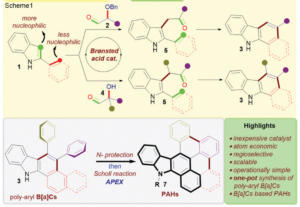 They have employed a Brønsted acid catalyst for the one pot cascade benzannulation strategy. The reported method allows conjugation of densely functionalized aromatic entities. The first step involves coupling reaction between unprotected 2-arylindoles (nucleophile) and benzyloxy/hydroxy aldehydes (electrophile) in the presence of an inexpensive Brønsted acid catalyst (Scheme1). The course of reaction proceeds through a pinacol-type rearrangement followed by an intramolecular nucleophilic addition leading to poly-aryl benzo[a]carbazole (B[a]C) formation.

After optimizing this step, they have attempted fabrication of carbazole based PAHs with extensive annulated p-conjugation. 2,3-Dichloro-5,6-dicyano-1,4-benzoquinone system (DDQ/H+) served as an excellent oxidant for the C–C bond forming reactions due to its high oxidation potential. The oxidative coupling reaction in the anhydrous dichloromethane solvent under an inert atmosphere, stiches number of aryl units together depending upon stoichiometry of DDQ. Appropriate ratio of DDQ and precursors in one-pot generate a challenging ''six–seven–six'' tricyclic-fused system (Scheme2).
The photophysical characterization suggests B[a]C systems show solvent polarity dependent fluorescence quantum yield. The highly emissive property of these molecules is beneficial for future OLED applications.
For details, please check: Chem. Commun., 2021,57, 5762-5765
About the blogger: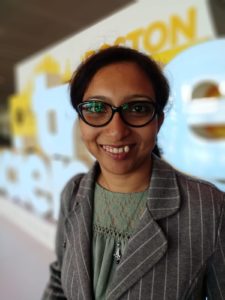 Dr. Damayanti Bagchi is a postdoctoral researcher in Irene Chen's lab at University of California, Los Angeles, United States. She has obtained her PhD in Physical Chemistry from Satyendra Nath Bose National Centre for Basic Sciences, India. Her research is focused on spectroscopic studies of nano-biomaterials. She is interested in exploring light enabled therapeutics. She enjoys travelling and experimenting with various cuisines. You can find her on Twitter at @DamayantiBagchi.