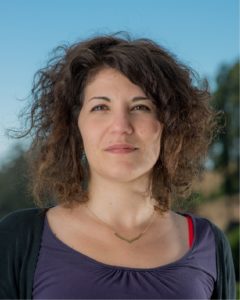 Raffaella Buonsanti
Raffaella Buonsanti obtained her PhD in Nanochemistry in 2010 at the National Nanotechnology Laboratory, University of Salento. Afterwards, she moved to the US where she spent over five years at the Lawrence Berkeley National Laboratory, first as a postdoc and project scientist at the Molecular Foundry and after as a tenure-track staff scientist in the Joint Center for Artificial Photosynthesis.
She is currently a tenure-track Assistant Professor in the Institute of Chemical Sciences and Engineering at EPFL in Switzerland. Her group works at the interface of materials chemistry and catalysis, using colloidal chemistry tools to synthesize controlled and tunable nanocrystals and to advance the current knowledge on the electrocatalytic conversion of small molecules into value-added chemicals. You can also learn more about Raffaella's group and research on Twitter @lnce_epfl.
Corinna was awarded her PhD in 2010 at the ETH Zurich, where she worked with Professor Erick M. Carreira on the total synthesis of Banyaside B and Microcin SF608. She has been awarded several honors during her independent career, including a 2016 David and Lucile Packard Foundation Fellowship, a 2016 NSF CAREER award, a 2018 Alfred P. Sloan Research Fellowship, a 2018 Camille Dreyfus Teacher-Scholar Award, a 2019 Marion Milligan Mason Award, and a 2019 Presidential Early Career Award for Scientists and Engineers.
She is currently an Assistant Professor at the University of Michigan, Ann Arbor and her group's research focuses on the development of new synthetic transformations relying on environmentally benign metals and the synthesis of complex molecules of biological importance in cancer treatment and infectious diseases. Find more info about Corinna and her group on Twitter @SchindlerLab.
As part of the Lectureship award, Raffaella and Corinna will each present lectures at three locations over the coming year, with at least one of these events taking place at an international conference. Details of the lectures will be announced in due course but keep an eye on Twitter @ChemCommun for details!
Keep up-to-date with our latest journal news on Twitter @ChemCommun or via our blog!
Learn more about ChemComm online! Submit your latest high impact research here!