"ChemComm is the Royal Society of Chemistry's most cited journal, and has a long history of publishing exciting new findings of exceptional significance, across the breadth of chemistry.
With its Communication format, we recognise the importance of rapid disclosure of your work, and we are proud that our times to publication remain among the fastest in the field.
Our vision for ChemComm is to maintain our longstanding tradition of quality, trust and fairness, and we encourage you to join our community by publishing your most exciting research with us."
Véronique Gouverneur, Editorial Board Chair
Scope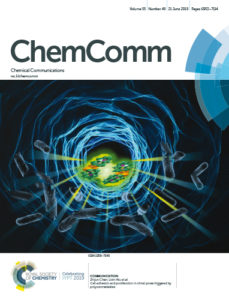 ChemComm is committed to publishing findings on new avenues of research, drawn from all major areas of chemical research, from across the world. Main research areas include (but are not limited to):
Analytical chemistry
Biomaterials chemistry
Bioorganic/medicinal chemistry
Catalysis
Chemical Biology
Coordination Chemistry
Crystal Engineering
Energy
Sustainable chemistry
Green chemistry
Inorganic chemistry
Inorganic materials
Main group chemistry
Nanoscience
Organic chemistry
Organic materials
Organometallics
Physical chemistry
Supramolecular chemistry
Synthetic methodology
Theoretical and computational chemistry
Learn more about ChemComm online! Submit your latest high impact research here!
Keep up-to-date with our latest journal news on Twitter @ChemCommun or via our blog!