Since July 2017, ChemComm has been running an experiment; offering authors a choice on how their manuscript is peer reviewed. Authors have had the option to choose between the customary 'single-blind' peer review, where reviewers remain anonymous while knowing who the authors are or choose to keep their identity from reviewers, who will assess the work without knowing who the authors are – i.e., 'double-blind' peer review. 12 months on, as our experiment comes to a close, we want to share some of our findings, which have led us to decide to keep optional double-blind peer review on ChemComm.
Over the last 12 months, 10% of ChemComm authors chose the double-blind option at submission. In line with data published in the Peer Review Congress abstracts1, authors from India and Iran had higher than average uptake, whereas USA, Japan, Germany and the UK all showed less than 5% uptake. During the trial we gathered feedback from authors to understand their motivations for choosing either single- or double-blind peer review. We found that those who chose double-blind, perceived this option to be more fair and all said they would choose it again next time they submit. Those who opted for single-blind peer review did so because of familiarity with the process, with a small proportion saying they would chose double-blind next time.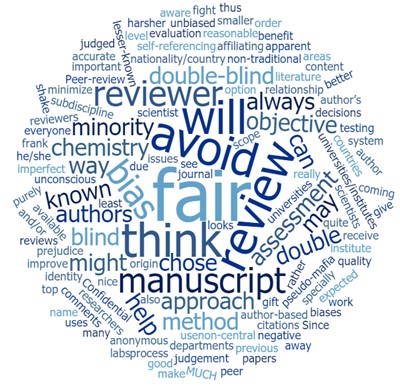 Authors are responsible for anonymising their own manuscripts, and we found that a significant portion of manuscripts were not fully anonymised, in many cases due to author and/or affiliation details being present in the main article. This is something we want to explore further to see if there are actions we can take to increase the proportion of manuscripts that are fully anonymised. If you do want to choose double-blind peer review for your submission, guidelines for successfully anonymising your manuscript can be found in our handy checklist along with more detailed guidelines for authors and reviewers.
Overall, our findings suggest that the quality of the reviews received was comparable for both single- and double-blind review and author satisfaction levels were also equal for both. Although it is unclear at this stage whether double-blind peer review truly reduces bias during the peer review process, it has been clear to us that there is strong advocacy for it from some members of our community. Therefore, we want to continue offering our authors at ChemComm a choice and therefore the option to choose double-blind peer review will remain as a permanent feature.
We continue to welcome your comments and feedback and encourage you to try double-blind peer review for your next submission.
1Elisa De Ranieri et al. Analysis of Uptake and Outcome in Author-Selected Single-blind vs Double-blind Peer Review at Nature Journals https://peerreviewcongress.org/prc17-0305