We are very pleased to welcome Professor Itaru Hamachi from Kyoto University as a new Associate Editor to the ChemComm team and look forward to working with him over the coming years.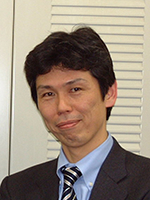 Itaru is a chemical biologist with expertise in live-cell organic chemistry, chemical biology, bioorganic and bioinorganic chemistry, and supramolecular biomaterials. He is now accepting submissions to ChemComm in the area of chemical biology.
Itaru is looking froward to his new role:
"I would like to encourage that new chemistry and chemical approaches between the chemistry and biology interfaces will appear in ChemComm, in order to decipher a lot of chemical-biology problems and also to create novel bio-inspired materials."
About Itaru:
Professor Itaru Hamachi was born in Fukuoka Prefecture, Japan in 1960 and received his Ph.D. in 1988 from Kyoto University under the guidance of the late Professor Iwao Tabushi. Immediately thereafter he joined Kyushu University, where he worked as an Assistant Professor for three years in the Kunitake laboratory before he became an Associate Professor in the Shinkai laboratory in 1992. In 2001, he became a Full Professor at IFOC, Kyushu University and moved to Kyoto University in 2005 where he currently heads the bioorganic chemistry wing.
Professor Hamachi has been a PRESTO investigator for 7 years (from 2000 to 2006) and a team leader of two CREST projects (from 2008 to 2013 and then from 2013 to 2018), which all are supported by the Japan Science and Technology (JST) Agency.
Submit your next top-notch, high-impact research now to Itaru Hamachi's Editorial Office.


Itaru's recent articles in ChemComm and other Royal Society of Chemistry journals include:*
Protein recognition using synthetic small-molecular binders toward optical protein sensing in vitro and in live cells
Ryou Kubota and Itaru Hamachi
Chem. Soc. Rev., 2015, 44, 4454-4471
DOI: 10.1039/C4CS00381K, Review Article
Ligand-directed dibromophenyl benzoate chemistry for rapid and selective acylation of intracellular natural proteins
Yousuke Takaoka, Yuki Nishikawa, Yuki Hashimoto, Kenta Sasaki and Itaru Hamachi
Chem. Sci., 2015, 6, 3217-3224
DOI: 10.1039/C5SC00190K, Edge Article

Open Access
Hoechst tagging: a modular strategy to design synthetic fluorescent probes for live-cell nucleus imaging
Akinobu Nakamura, Kazumasa Takigawa, Yasutaka Kurishita, Keiko Kuwata, Manabu Ishida, Yasushi Shimoda, Itaru Hamachi and Shinya Tsukiji
Chem. Commun., 2014, 50, 6149-6152
DOI: 10.1039/C4CC01753F, Communication
*Access is free until 30/09/2016 through a registered RSC account.