We are pleased to announce that ChemComm's latest Impact Factor has once again risen this year, reaching an all-time-high of 6.834, according to the 2014 Journal Citation Reports®.
We are truly grateful to everyone who has contributed to the journal's continuing success – our authors, referees, readers, Associate Editors, and Editorial and Advisory Boards. Because of you, ChemComm has continued to move from strength to strength as the largest publisher of high quality communications across the chemical sciences, providing fast publication times while delivering great author service.
We invite you to submit your next urgent Communication to ChemComm.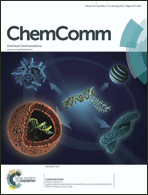 Top cited ChemComm articles:
Feature articles
MOFs for CO2 capture and separation from flue gas mixtures: the effect of multifunctional sites on their adsorption capacity and selectivity
Zhijuan Zhang, Yonggang Zhao, Qihan Gong, Zhong Li and Jing Li
Chem. Commun., 2013, 49, 653-661
DOI: 10.1039/C2CC35561B, Feature Article
From themed collection Metal-organic frameworks
Exploration of the medical periodic table: towards new targets
Nicolas P. E. Barry and Peter J. Sadler
Chem. Commun., 2013,49, 5106-5131
DOI: 10.1039/C3CC41143E, Feature Article
From themed collection Medicinal Inorganic Chemistry
Magnetically retrievable catalysts for organic synthesis
R. B. Nasir Baig and Rajender S. Varma
Chem. Commun., 2013, 49, 752-770
DOI: 10.1039/C2CC35663E, Feature Article
Communications
Hierarchical NiCo2O4@MnO2 core–shell heterostructured nanowire arrays on Ni foam as high-performance supercapacitor electrodes
Le Yu, Genqiang Zhang, Changzhou Yuan and Xiong Wen (David) Lou
Chem. Commun., 2013, 49, 137-139
DOI: 10.1039/C2CC37117K, Communication
Synthesis of MoS2 nanosheet–graphene nanosheet hybrid materials for stable lithium storage
Xiaosi Zhou, Li-Jun Wan and Yu-Guo Guo
Chem. Commun., 2013, 49, 1838-1840
DOI: 10.1039/C3CC38780A, Communication
Carbon-dot-based ratiometric fluorescent sensor for detecting hydrogen sulfide in aqueous media and inside live cells
Changmin Yu, Xizhen Li, Fang Zeng, Fangyuan Zheng and Shuizhu Wu
Chem. Commun., 2013,49, 403-405
DOI: 10.1039/C2CC37329G, Communication
Flexible, low-temperature, solution processed ZnO-based perovskite solid state solar cells
Mulmudi Hemant Kumar, Natalia Yantara, Sabba Dharani, Michael Graetzel, Subodh Mhaisalkar, Pablo P. Boix and Nripan Mathews
Chem. Commun., 2013,49, 11089-11091
DOI: 10.1039/C3CC46534A, Communication
Read more Impact Factor highlights for the Royal Society of Chemistry's leading journals, including Chemical Science and Chemical Society Reviews.
Find out how other RSC journals are ranked in the latest Impact Factor release
*The Impact Factor provides an indication of the average number of citations per paper. Produced annually, Impact Factors are calculated by dividing the number of citations in a year, by the number of citeable articles published in the preceding two years. Data based on 2014 Journal Citation Reports®, (Thomson Reuters, 2015).