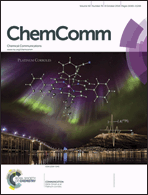 Read on to find out which ChemComm articles your colleagues were downloading between October and December 2014!
Synthesis CdSexS1−x core/shell type quantum dotsvia one injection method
Liang-Yih Chen, Ching-Hsiang Chen, Chih-Hsiang Tseng, Feng-Lu Lai and Bing-Joe Hwang  
DOI: 10.1039/C0CC04074F
Graphene/graphite sheet assisted growth of high-areal-density horizontally aligned carbon nanotubes
Huanhuan Xie, Rufan Zhang, Yingying Zhang, Wenlin Zhang, Muqiang Jian, Chunya Wang, Qi Wang and Fei Wei  
DOI: 10.1039/C4CC04434G 
Solution-processable n-type and ambipolar semiconductors based on a fused cyclopentadithiophenebis(dicyanovinylene) core
Xueliang Shia,  Jingjing Changa and Chunyan Chia  
DOI: 10.1039/C3CC43680B
Diastereomeric ratio determination by high sensitivity band-selective pure shift NMR spectroscopy
Ralph W. Adams, Liam Byrne, Péter Király, Mohammadali Foroozandeh, Liladhar Paudel, Mathias Nilsson, Jonathan Clayden and Gareth A. Morris  
DOI: 10.1039/C3CC49659G
Open Access
NMR methodology for complex mixture 'separation'
Nicholle G. A. Bell, Lorna Murray, Margaret C. Graham and Dušan Uhrín
DOI: 10.1039/C3CC48907H
Open Access
Streptavidin binding as a model to characterize thiol–ene chemistry-based polyamine surfaces for reversible photonic protein biosensing
Eva Melnik, Paul Muellner, Ole Bethge, Emmerich Bertagnolli, Rainer Hainberger and Michael Laemmerhofer  
DOI: 10.1039/C3CC48640K
Open Access
A new approach to improve cycle performance of rechargeable lithium–sulfur batteries by inserting a free-standing MWCNT interlayer
Yu-Sheng Su and Arumugam Manthiram  
DOI: 10.1039/C2CC33945E
Electrically-driven modulation of surface-grafted RGD peptides for manipulation of cell adhesion
Minhaj Lashkor, Frankie J. Rawson, Alex Stephenson-Brown, Jon A. Preece and Paula M. Mendes  
DOI: 10.1039/C4CC06649A
Open Access
Efficient photovoltaic and electroluminescent perovskite devices
Lidón Gil-Escrig, Giulia Longo, Antonio Pertegás, Cristina Roldán-Carmona, A. Soriano, Michele Sessolo and Henk J. Bolink  
DOI: 10.1039/C4CC07518H
Phthalocyanines: a new class of G-quadruplex-ligands with many potential applications
Hidenobu Yaku, Takeshi Fujimoto, Takashi Murashima, Daisuke Miyoshi and Naoki Sugimoto  
DOI: 10.1039/C2CC31037F
Graphene quantum dots: emergent nanolights for bioimaging, sensors, catalysis and photovoltaic devices
Jianhua Shen, Yihua Zhu, Xiaoling Yang and Chunzhong Li  
DOI: 10.1039/C2CC00110A
Nanostructured electrochromic smart windows: traditional materials and NIR-selective plasmonic nanocrystals
Evan L. Runnerstrom, Anna Llordés, Sebastien D. Lounis and Delia J. Milliron  
DOI: 10.1039/C4CC03109A
Open Access
Rh(III)-catalyzed oxidative C–H bond arylation with hydroquinones: sustainable synthesis of dibenzo[b,d]pyran-6-ones and benzo[d]naphtho[1,2-b]pyran-6-ones
Wei Yang, Shan Wang, Qian Zhang, Qun Liu and Xianxiu Xu  
DOI: 10.1039/C4CC08260E
A zirconium squarate metal–organic framework with modulator-dependent molecular sieving properties
Bart Bueken, Helge Reinsch, Nele Reimer, Ivo Stassen, Frederik Vermoortele, Rob Ameloot, Norbert Stock, Christine E. A. Kirschhock and Dirk De Vos  
DOI: 10.1039/C4CC03764B
Open Access
Aggregation-induced emission: phenomenon, mechanism and applications
Yuning Hong, Jacky W. Y. Lam and Ben Zhong Tang   
DOI: 10.1039/B904665H
Energy level tuning of TPB-based hole-transporting materials for highly efficient perovskite solar cells
Yakun Song, Songtao Lv, Xicheng Liu, Xianggao Li, Shirong Wang, Huiyun Wei, Dongmei Li, Yin Xiao and Qingbo Meng    
DOI: 10.1039/C4CC06493C
Ni-Catalyzed α-arylation of esters and amides with phenol derivatives
Eva Koch, Ryosuke Takise, Armido Studer, Junichiro Yamaguchi and Kenichiro Itami
DOI: 10.1039/C4CC08426H
Open Access
Bifunctional covalent organic frameworks with two dimensional organocatalytic micropores
Digambar Balaji Shinde, Sharath Kandambeth, Pradip Pachfule, Raya Rahul Kumar and Rahul Banerjee  
DOI: 10.1039/C4CC07104B
Nitrogen-doped carbon nanotubes and graphene composite structures for energy and catalytic applications
Won Jun Lee, Uday Narayan Maiti, Ju Min Lee, Joonwon Lim, Tae Hee Han and Sang Ouk Kim 
DOI: 10.1039/C4CC00146J
Bay-linked perylene bisimides as promising non-fullerene acceptors for organic solar cells
Wei Jiang, Long Ye, Xiangguang Li, Chengyi Xiao, Fang Tan, Wenchao Zhao, Jianhui Hou and Zhaohui Wang
DOI: 10.1039/C3CC47204C
Selective oxidation of CO in the presence of H2, H2O and CO2via gold for use in fuel cells
Philip Landon, Jonathan Ferguson, Benjamin E. Solsona, Tomas Garcia, Albert F. Carley, Andrew A. Herzing, Christopher J. Kiely, Stanislaw E. Golunski and Graham J. Hutchings
DOI: 10.1039/B505295P
A porous metal–organic framework with –COOH groups for highly efficient pollutant removal
Qi Zhang, Jiancan Yu, Jianfeng Cai, Ruijing Song, Yuanjing Cui, Yu Yang, Banglin Chen and Guodong Qian
DOI: 10.1039/C4CC06648K
Wet chemical synthesis of silver nanorods and nanowires of controllable aspect ratio
Nikhil R. Jana, Latha Gearheart and Catherine J. Murphy  
DOI: 10.1039/B100521I
Reduction of graphene oxide viaL-ascorbic acid
Jiali Zhang, Haijun Yang, Guangxia Shen, Ping Cheng, Jingyan Zhang and Shouwu Guo  
DOI: 10.1039/B917705A
14.8% perovskite solar cells employing carbazole derivatives as hole transporting materials
Sang Do Sung, Min Soo Kang, In Taek Choi, Hong Mo Kim, Hyoungjin Kim, MunPyo Hong, Hwan Kyu Kim and Wan In Lee
DOI: 10.1039/C4CC06716A
---
ChemComm
is the home of urgent high quality communications from across the chemical sciences. With a world renowned reputation for quality and fast times to publication (average of 40 days),
ChemComm
is the ideal place to publish your research.
Submit your urgent research to ChemComm today!
Stay up to date with ChemComm
Be among the first to hear about the newest articles being published – Sign-up to our journal news alert to receive information about most read articles, themed issues, journal news, as well as calls for papers and invitations.