We would like give Rachel Caruso, from the University of Melbourne a warm welcome into the ChemComm team as a new Associate Editor.
Rachel is a materials chemist with expertise in the fabrication of advanced porous functional materials. She is now accepting submissions to ChemComm in the area of materials chemistry.
Biography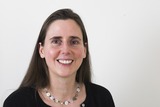 Rachel completed her PhD at the University of Melbourne and then worked as a postdoctoral fellow and group leader at Berlin's Hahn-Meitner Institute and the Max-Planck Institute of Colloids and Interfaces in Germany. She returned to Australia in 2003 to take up an Australian Research Council Fellowship. Since 2008, Rachel has held a joint appointment between the University of Melbourne and CSIRO as an Associate Professor and Reader in the School of Chemistry and as a CEO Science Leader in the division of Materials Science and Engineering. She currently leads an Advanced Porous Materials research group which consists of postdoctoral fellows and PhD students at both the Univeristy of Melbourne and CSIRO.
With over 60 research papers accepted in international journals with high impact factors, Rachel's publications are extremely well cited and she has had her research displayed on six journal covers.
Submit your next top-notch, high-impact Communication to Rachel Caruso's Editorial Office