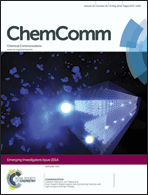 We are delighted to announce the publication of the 2014 ChemComm Emerging Investigators issue.
Now in its fourth year, we have been overwhelmed by the community's positive response to this issue. It showcases up-and-coming scientists who are internationally recognised for making outstanding contributions to their respective fields. 
There are a mix of Feature Articles and Communications, as well as an Editorial showcasing the authors – which includes some fun photos… look out for a giant pumpkin and R2D2!  You can also take a look at our previous issues in 2011, 2012 and 2013.
View the whole Emerging Investigators collection today.
We invite you to submit your next communication article to ChemComm.