We are delighted to share with you a series of collections of recent books, themed issues and articles on the topic of water.  These four collections – one per month – demonstrate different aspects of water: its chemistry, its wide use in reactions and as a solvent, its relationship with energy and sustainability, as well as with human health and the environment.
Here, in our first collection, we have assembled some of the groundbreaking research and transformative reviews related to the fundamental chemistry of water – including its interfacial behaviour and thermodynamics – from across our journals.
"This collection showcases highly topical and significant papers we have recently published on the underlying, essential chemistry of water, " says Dr Robert Eagling, Managing Editor for Chemical Science, Chemical Communications, and Chemical Society Reviews.  "Authored by some of the leading scientists in the field, we hope that these articles will be of broad interest and of great use to all researchers – those who have spent years actively investigating the chemistry of water, as well as university or graduate students who may have just entered into this exciting field of research."
"This year, as the IPCC prepares to release the final contributions to their Fifth Assessment Report on climate change, it is timely to consider the role of chemistry in addressing global challenges, such as food, water, raw materials and energy," remarks Professor Lesley Yellowlees, President of the Royal Society of Chemistry.  "This collection from our journals shares the latest research from scientists around the world, aiming to tackle these challenges. Featuring original research and commentary by leaders in the field, we hope that you will find this high-quality collection engaging, inspirational and informative."
You can read all of these articles for free until 23 March 2014!  We truly hope you enjoy this collection.
Did you know that the RSC has put together a webpage on Water, which brings together information on activities for scientists, policymakers, educators and young people? Take a look today…
Related themed issues
These themed issues may be of interest – have a look…
PCCP 2011 themed issue on ice and water
PCCP 2012 themed issue on the interfaces of ionic liquids
PCCP 2012 themed issue on hydrogen bonding in electronically excited states
---
Reviews and Perspectives
Chemistry in solution: recent techniques and applications using soft X-ray spectroscopy
Kathrin M. Lange, Alexander Kothe and Emad F. Aziz
Phys. Chem. Chem. Phys., 2012,14, 5331-5338
DOI: 10.1039/C2CP24028A, Perspective
Pressure amorphized ices – an atomistic perspective
John S. Tse and Dennis D. Klug
Phys. Chem. Chem. Phys., 2012,14, 8255-8263


DOI: 10.1039/C2CP40201G, Perspective
Deeply-cooled water under strong confinement: neutron scattering investigations and the liquid–liquid critical point hypothesis
Christopher E. Bertrand, Yang Zhang and Sow-Hsin Chen
Phys. Chem. Chem. Phys., 2013,15, 721-745
DOI: 10.1039/C2CP43235H, Perspective
On the nature and signatures of the solvated electron in water
B. Abel, U. Buck, A. L. Sobolewski and W. Domcke
Phys. Chem. Chem. Phys., 2012,14, 22-34
DOI: 10.1039/C1CP21803D, Perspective
Oil–water interfacial self-assembly: a novel strategy for nanofilm and nanodevice fabrication
Linfeng Hu, Min Chen, Xiaosheng Fang and Limin Wu
Chem. Soc. Rev., 2012,41, 1350-1362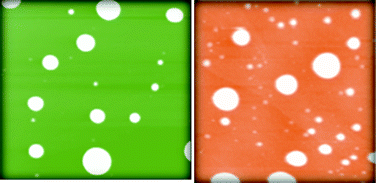 DOI: 10.1039/C1CS15189D, Critical Review
Very small bubbles at surfaces—the nanobubble puzzle
Vincent Stuart James Craig
Soft Matter, 2011, 7, 40-48
DOI: 10.1039/C0SM00558D, Tutorial Review
---
Original research articles
Experimental and quantum chemical characterization of the water oxidation cycle catalysed by [RuII(damp)(bpy)(H2O)]2+
Laura Vigara, Mehmed Z. Ertem, Nora Planas, Fernando Bozoglian, Nils Leidel, Holger Dau, Michael Haumann, Laura Gagliardi, Christopher J. Cramer and Antoni Llobet
Chem. Sci., 2012,3, 2576-2586
DOI: 10.1039/C2SC20399E, Edge Article
From themed collection Physical Chemistry
Inhibition of ice nucleation by slippery liquid-infused porous surfaces (SLIPS)
Peter W. Wilson, Weizhe Lu, Haojun Xu, Philseok Kim, Michael J. Kreder, Jack Alvarenga and Joanna Aizenberg
Phys. Chem. Chem. Phys., 2013,15, 581-585
DOI: 10.1039/C2CP43586A, Paper
Absolute Redox Potential of Liquid Water: A First-Principles Theory
Michael Lucking, Yiyang Sun, Damien West and Shengbai Zhang
Chem. Sci., 2013, Accepted Manuscript
DOI: 10.1039/C3SC52287C, Edge Article
Water-hydroxyl phases on an open metal surface: breaking the ice rules
Matthew Forster, Rasmita Raval, Javier Carrasco, Angelos Michaelides and Andrew Hodgson
Chem. Sci., 2012,3, 93-102
DOI: 10.1039/C1SC00355K, Edge Article
From themed collection Physical Chemistry
Structural trends of ionized water networks: Infrared spectroscopy of water cluster radical cations (H2O)n+ (n = 3–11)
Kenta Mizuse, Jer-Lai Kuo and Asuka Fujii
Chem. Sci., 2011,2, 868-876
DOI: 10.1039/C0SC00604A, Edge Article
Cold crystallisation behaviour of water molecules in ionic liquids as a screening method to evaluate biocompatibility of the hydrated ionic liquids
Kyoko Fujita, Yohsuke Nikawa and Hiroyuki Ohno
Chem. Commun., 2013,49, 3257-3259
DOI: 10.1039/C3CC39033K, Communication
Dual stimuli-responsive phase transition of an ionic liquid/water mixture
Yuki Kohno, Hiroki Arai and Hiroyuki Ohno
Chem. Commun., 2011,47, 4772-4774
DOI: 10.1039/C1CC10613A, Communication
Water droplet bouncing—a definition for superhydrophobic surfaces
Colin R. Crick and Ivan P. Parkin
Chem. Commun., 2011,47, 12059-12061
DOI: 10.1039/C1CC14749H, Communication
Cubic Dipole Lattice of Water Molecules Trapped inside Carbon Cages
Shinobu Aoyagi, Norihisa Hoshino, Tomoyuki Akutagawa, Yuki Sado, Ryo Kitaura, Hisanori Shinohara, Kunihisa Sugimoto, Rui Zhang and Yasujiro Murata
Chem. Commun., 2013, Accepted Manuscript
DOI: 10.1039/C3CC46683C, Communication
Electrocatalytic oxidation of water observed on a nano-gold/palladium electrode
Yosuke Nakayama and Munetaka Oyama
Chem. Commun., 2013,49, 5228-5230
DOI: 10.1039/C3CC42149J, Communication
Me2–NHC based robust Ir catalyst for efficient water oxidation
Dennis G. H. Hetterscheid and Joost N. H. Reek
Chem. Commun., 2011,47, 2712-2714
DOI: 10.1039/C0CC05108J, Communication
Nanoscale condensation of water on self-assembled monolayers
Michael James, Tamim A. Darwish, Simone Ciampi, Sven O. Sylvester, Zhaoming Zhang, Albert Ng, J. Justin Gooding and Tracey L. Hanley
Soft Matter, 2011,7, 5309-5318
DOI: 10.1039/C1SM05096F, Paper
Droplet emission induced by ultrafast spreading on a superhydrophilic surface
Ruize Sun, Hao Bai, Jie Ju and Lei Jiang
Soft Matter, 2013,9, 9285-9289
DOI: 10.1039/C3SM51409A, Communication
Dynamics of water confined to reverse AOT micelles
Tinka Luise Spehr, Bernhard Frick, Michaela Zamponi and Bernd Stühn
Soft Matter, 2011, 7, 5745-5755
DOI: 10.1039/C1SM05204G, Paper
Direct chemical analysis of frozen ice cores by UV-laser ablation ICPMS
Wolfgang Müller, J. Michael G. Shelley and Sune Olander Rasmussen
J. Anal. At. Spectrom., 2011, 26, 2391-2395
DOI: 10.1039/C1JA10242G
Determination of Fe2+ and Fe3+ species by FIA-CRC-ICP-MS in Antarctic ice samples
Andrea Spolaor, Paul Vallelonga, Jacopo Gabrieli, Giulio Cozzi, Claude Boutron and Carlo Barbante
J. Anal. At. Spectrom., 2012, 27, 310-317
DOI: 10.1039/C1JA10276A