Written by guest web-writer Kevin Murnaghan.
In this highly original work, researchers from the Complex Functional Materials Group at the University of Bristol and the Superconductivity and Magnetism Group at the University of Warwick have used off-the-shelf, supermarket pasta as a sacrificial template for the production of a variety of superconducting wires, tubes and spirals.  They have even made a superconducting 'jolly roger' skull and crossbones.
Here's how: The pasta was pre-washed to remove impurities and then rehydrated in a solution containing a mixture of nitrates of yttrium, barium and copper. A slight excess of barium nitrate was used to make sure the desired superconducting material YBa2Cu2O7-x phase (Y123) was attained. Via a calcination process the superconducting pasta shapes were produced, removing the organic material of the sacrificial template and neatly retaining the macroscopic shape of the template.
'Chemical black pepper and parmesan' were provided by the use of silver nitrate in the process, which boosts electrical and structural properties. Without using this salt, structures formed are brittle, but with it, compressive strength of the shapes doubled in strength from 0.76 to 1.56 MPa.  This helped counteract the effect of porosity formed from the outgassing of the sacrificial pasta during the calcination process.
Interestingly, the pasta had its own influence on the properties of the material.  Starch-mediated reduction of Ag(I) to Ag(0) is the reason for the dark colour of the materials formed, and trace transition metals in the foodstuff were found to have an effect on electrical and superconducting properties.
Critical temperatures, Tc and current densities, Jc, in early samples were found to be low, relative to typical Y123 type superconductors when silver was not included in the synthesis, and were markedly improved when it was.  Further improvements to the superconductivity of the spaghetti-based replicas were achieved via sintering and annealing.  This work represents a highly cost-effective route to a range of superconducting materials with macroscopic architectures, compared with current state of the art processes such as CVD or PLD.  Future work will focus, in part, on further densification of the product, and purity of the sacrificial template.  Further fascinating information is provided in the electronic supplementary information.  Buon appetito!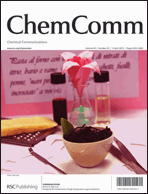 Read this ChemComm cover article today:
Designed 3D architectures of high-temperature superconductors
David C. Green, Martin R. Lees and Simon R. Hall
Chem. Commun., 2013,49, 2974-2976
DOI: 10.1039/C3CC38271K
Kevin Murnaghan is a guest web-writer for Chemical Communications. He is currently a Research Chemist in the Adhesive Technologies Business Sector of Henkel AG & Co. KGaA, based in Düsseldorf, Germany. His research interests focus primarily on enabling chemistries and technologies for next generation adhesives and surface treatments. Any views expressed here are his personal ones and not those of Henkel AG & Co. KGaA.