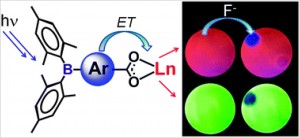 Luminescence from lanthanide-based compounds is currently exploited in electroluminescent devices ranging from glucose monitoring sensors to thin-film displays. Triarylboron groups are known to greatly enhance the fluorescence or phosphorescence of transition metal complexes, but such compounds are very sensitive to oxygen quenching and are unsuitable for use as sensors under ambient conditions.  The combination of these groups with lanthanides may offer enhanced luminescence in more ambient-friendly lanthanide-based materials.
The Wang group from Queen's University, Canada have synthesised the first examples of triarylboron functionalized Tb(III) and Eu(III) compounds, and have shown that the BMes2 group is extremely effective at activating lanthanide emissions.  The new compounds have been tested as sensors, showing that such triarylboron functionalized lanthanides may be promising new CN– and F– anion sensors.
To find out more, download this HOT article now (free to access until the 5th of December 2012).
Selective activation of lanthanide luminescence with triarylboron-functionalized ligands and visual fluoride indicators
Maria Varlan, Barry A. Blight and Suning Wang
Chem. Commun., 2012, Advance Article
DOI: 10.1039/C2CC36172H