Glucometers used by diabetic patients can be altered to detect HIV-related DNA sequences, say scientists in China.
The commercially available personal glucometer has been the most successful point-of-care (POC) device up to date. But the glucometer only responds to glucose. Extending its use to monitoring different types of targets would potentially revolutionise POC technology.
The team used invertase, an enzyme that catalyses the hydrolysis of sucrose into glucose, to interpret DNA recognition events into readouts measurable by the glucometer.
They loaded nanoparticle amplification labels with invertase, which, through target/probe DNA hybridisations, catalysed the conversion of sucrose on the sensing surface to glucose. They could detect as low as 0.5pM of target DNA. While they demonstrate the method with HIV DNA, it could potentially used to detect different DNAs.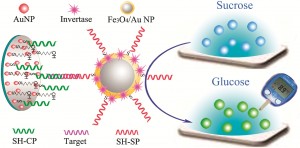 Link to journal article
Sensitive point-of-care monitoring of HIV related DNA sequences with a personal glucometer
J Xu et al
Chem. Commun., 2012, DOI: 10.1039/c2cc35941c