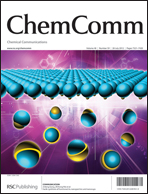 Thomson Reuters has just released the 2011 Journal Citation Reports ® and it's great news for ChemComm.
Our Impact Factor* (IF) has grown once again and now stands at 6.169.
The journal's success would not be possible without the loyalty of our authors and the commitment of our referees – thank you to all of you who have helped contribute to this impressive figure. And, of course, we sincerely thank our Editorial and Advisory Boards for their continued dedication and commitment.
With an average time of just 55 days from receipt to publication, ChemComm has the fastest average publication times of any chemical journal and with our latest IF as well, it's clear why ChemComm is the home of urgent, high impact communications from across the chemical sciences.
Join your colleagues today and submit your next high impact communication to ChemComm.
Find out how other RSC journals are ranked in the latest Impact Factor release >
*The IF provides an indication of the average number of citations per paper. Produced annually, IFs are calculated by dividing the number of citations in a year, by the number of citeable articles published in the preceding two years.
 2011 Journal Citation Reports ®, (Thomson Reuters, 2012).