US scientists have made the first DNAzyme-controlled biofuel cell, an important step on the road to self-powered medical diagnostics, they claim. 
Biofuel cells (BFCs) use enzymes or microbes to oxidise fuels. Integrating them with logic-based biosensing systems provides a way to correlate the relationship between multiple target analytes in complex samples according to Boolean logic (which uses AND, OR and NOT operators) without the need for external power. 
Joseph Wang and colleagues at the University of California, San Diego, used DNAzyme-based biochemical signals to control the power output of a BFC. DNAzymes are biocatalytic nucleic acids that are widely used for biosensing but have never before been used to control a BFC. Wang demonstrated that the biosensor can determine the presence of a specific target in the absence of another related target in a single test.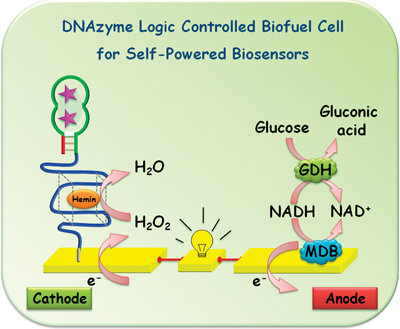 While this is a proof-of-concept study, Wang says that self-powered diagnostics may be realised if pathologically relevant targets were applied to the BFC.
Read Wang's ChemComm communication, free for a limited period.
Also of interest:
DNAzymes for sensing, nanobiotechnology and logic gate applications