Magnetic Resonance Imaging (MRI) is used as a medical tool to image soft tissue. It can give insights into the physical state of brain, identify sports injuries and diagnose cancer without ionising radiation. Its main drawback is the low sensitivity of the contrast enhancing probes it uses. These are the paramagnetic metal complexes, often containing gadolinium or manganese, that distinguish between healthy and damaged tissue by altering the relaxation times of the water protons in the body. The challenge is to increase the concentration of the contrast reagents in the tissues.
One solution is to use nanocarriers to deliver a high concentration of the contrast agent to the specific site of interest. Silvio Aime and his team recently used the nanocarrier, apoferritin, to transport solid MnOOH, which was subsequently reduced to paramagnetic Mn2+. Their recent ChemComm details how they have now taken this one step further to find a way of generating the Mn2+ contrast agent using a naturally occurring reductant. The result: a probe for melanin.
Melanin is produced from the successive oxidation of tyrosine – a process that is up-regulated in malignant melanoma. Aime exploited this oxidation process by introducing MnOOH-loaded apoferritin into melanoma cells – the MnOOH was reduced, generating the contrast agent and enabling the cells to be successfully imaged by MRI.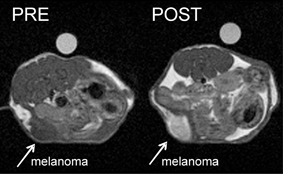 in vivo MRI images of tumour-bearing mice before and after administration of the contrast agent loaded nanocarrier
The team tested the sensor on melanogenic cells (melanin-forming cells) against non-melanogenic cells. They demonstrated that the signal generated belonged only to the melanin-producing cells which had internalised the Mn(III)OOH–apoferriton payloads. Animal studies revealed enhanced signal intensity in melanogenic tumours.
This interesting research has the potential to provide non-invasive, early diagnoses of skin cancers and evaluate the development of tumours, critical for saving people's lives. The in vivo sensor may also be used to monitor other processes involving massive oxidative processes. The work of Silvio Aime is one to watch.
To find out more, download the ChemComm article today…
Posted on behalf of Sarah Brown, web science writer for ChemComm.