Chinese scientists have taken a step towards further understanding the reactions that led to the origin of life by showing that a crucial metabolic process can be photocatalysed on the surface of a common mineral.
The citric acid or tricarboxylic acid cycle is central to almost all life and is used to generate energy from the conversion of acetate from fats, proteins and carbohydrates to carbon dioxide and water. Some bacteria run this cycle in reverse in a reductive tricarboxylic acid cycle (rTCA), making carbon compounds from carbon dioxide and water, and this has been suggested to be the central part of primordial metabolism.
Wei Wang from Harbin Institute of Technology and colleagues claim that early reactions to form biological molecules and metabolic pathways could have occurred on the surface of sulfide minerals in under-sea hydrothermal vents. This could explain why enzymes containing transition metal-sulfide clusters play a vital role in the metabolism of most organisms.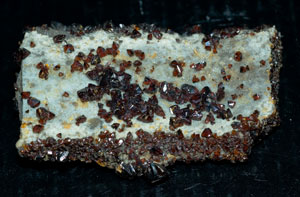 Early metabolic reactions could have happened on the surface of the mineral sphalerite (ZnS)
Read the full article in Chemistry World
Link to Article
Photocatalytic reversible amination of α-keto acids on a ZnS surface: implications for the prebiotic metabolism
Wei Wang, Qiliang Li, Bin Yang, Xiaoyang Liu, Yanqiang Yang and Wenhui Su
Chem. Commun., 2012, Advance Article
DOI: 10.1039/C2CC15665B