Weiping Wang is now a Ph.D. student under the supervision of Professor Ying Chau at the Hong Kong University of Science and Technology. He has just passed his Ph.D. thesis defense and has been accepted into a postdoctoral position in Boston area. Weiping took some time out from his work to talk to ChemComm…
Chau and Wang's recent ChemComm article, Efficient and facile formation of two-component nanoparticles via aromatic moiety directed self-assembly,  presents a self assembling system based around Fmoc groups for the construction of nanoparticles.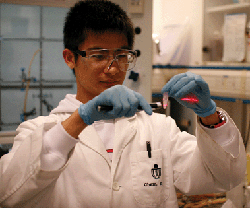 What initially inspired you to become a scientist?
I grew up in a family of teachers and was influenced by my parents. I became interested in the natural sciences from a very young age. I spent my childhood making simple circuits, performing oil combustion, observing ant behavior. Becoming a scientist was a very natural path for me. After I started my Ph.D. my desire to become a scientist was consolidated. For me, scientific research is the best career in the world. You can accelerate societal development and bring benefits to the human race by investigating topics that interest you.
What was your motivation behind the research described in your ChemComm communication?
Aromatic groups conjugated with small molecules can engage in specific interactions to facilitate self-assembly. However, most synthetic small aromatic molecules self-assemble into nanofibrous structures, which are not suitable as drug delivery carriers. Inspired from the natural protein clathrin, we envisioned that a simple trigonal core molecule conjugated with three aromatic groups may achieve a rapid and efficient assembly into nanoparticles. Moreover, as drug delivery carriers, nanoparticles need to be well-dispersed at physiological conditions. This further motivated us to design this two-component self-assembling system employing aromatic interactions.
Where do you see your research heading next?
The two-step aromatic-directed self-assembling process allows us to introduce biofunctional peptides on the surface of nanoparticles. We have successfully prepared two-component nanoparticles functionalized by Fmoc-modified targeting peptides. The nanoparticles have shown attractive physicochemical and biofunctional properties for drug delivery application. Now the nanoparticles are being evaluated for encapsulating poorly soluble anticancer drugs and in vitro cytotoxicity. The idea of the self-assembling system may also inspire the construction of functional nanomaterials using other aromatic moieties. Other aromatic groups or even aromatic drug molecules may be formulated into a promising drug delivery system using a similar approach.
What advice would you have for young scientists considering a career in science research?
Passion is the most important factor to consider.
What do enjoy doing in your spare time?
Travelling, hiking, swimming and photography
If you could not be a scientist, but could be anything else, what would you be?
I think I would be an entrepreneur and start up a company with friends. I would like to know whether I can run a company well.