British scientists at working at
Imperial College, London
 have synthesised a macroporous hydroxyapatite bioceramic with potential uses in bone regeneration.
Porous hydroxyapatite (HA) bioceramics are widely studied for their potential use in bone regeneration. These materials are biocompatible and have a structure that contains many connected pores. This allows fluid to flow through the material and provides nucleation points for bone growth. The best results are obtained when the the pores are smaller than 1 μm and therefore synthetic methods that give good control over the pore size and material structure are highly desirable.
Prof. Molly Stevens and her team have now demonstrated a way of making an HA bioceramic with a 3D ordered (DOM) macroporous structure. They used an ordered macroporous carbon template (OMC)  in combination with a sol-gel method to form the desired bioceramic. They found that the DOM HA, when compared with HA material made without the OMC template, allowed the nucleation of calcium phosphate on the surface of the pores, thus demonstrating that the template method used affects the crystallisation of material.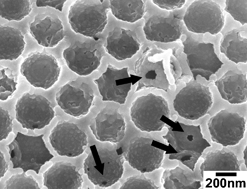 The team hopes that these materials will find applications not only in the generation of bone but also in the generation of other materials. Want to find out more? Then download the ChemComm article for free today and leave a comment below to let us know what you think.