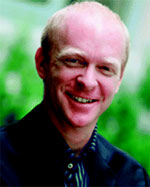 Congratulations to Professor Amar Flood (Indiana University) who is the winner of the Cram Lehn Pedersen prize 2011.
The prize, sponsored by ChemComm and named in honour of the winners of the 1987 Nobel Prize in Chemistry, recognises significant, original and independent work in supramolecular chemistry by emerging investigators.
The prize is awarded to Professor Flood for his pioneering work in macrocyclic and supramolecular chemistry and, in particular, for his development of receptors that employ pure CH hydrogen bonding to bind anionic guest species.
Professor Flood will receive £2,000 and will present his award lecture at the 6th International Symposium on Macrocyclic and Supramolecular Chemistry (6-ISMSC) in Brighton in July. ChemComm Editor Robert Eagling and Deputy Editor Joanne Thomson will be at the symposium – let us know if you'll be there too.
Prof Phil Gale, Chair of the Scientific Committee for 6-ISMSC said: "I'm really delighted that Amar has been selected by the International Committee to be the first recipient of the Cram Lehn Pedersen Prize. I'm already looking forward to hearing his latest results in Brighton in July."
Nominations for the 2012 award, which will be presented at 7-ISMSC in New Zealand, will open shortly. Email us to register your interest.
Find out more about Professor Flood's research by reading his Chem Soc Rev tutorial review:
Click chemistry generates privileged CH hydrogen-bonding triazoles: the latest addition to anion supramolecular chemistry,  Yuran Hua and Amar H. Flood, Chem. Soc. Rev., 2010, 39, 1262-1271
(This review is part of the themed issue Click chemistry: Function follows form)
Also of interest:
A tristable [2]pseudo[2]rotaxane,  Ali Trabolsi, Albert C. Fahrenbach, Sanjeev K. Dey, Andrew I. Share, Douglas C. Friedman, Subhadeep Basu, Travis B. Gasa, Niveen M. Khashab, Sourav Saha, Ivan Aprahamian, Hussam A. Khatib, Amar H. Flood and J. Fraser Stoddart, Chem. Commun., 2010, 46, 871-873