Chemists have discovered a novel triggering mechanism for olefin metathesis catalysts while unravelling the mechanism of a crucial ligand rearrangement step.
Olefin metathesis is a widely used reaction in organic and polymer synthesis. cis Dichloro ruthenium benzylidene complexes bearing an N-heterocyclic carbene ligand have recently gained considerable attention as stable metathesis catalysts. They are known as latent catalysts as they initiate slowly, which is thought to be because the cis dichloro precursors have to rearrange to their trans dichloro counterparts to become active.
While studying the reaction mechanism, Christian Slugovc and colleagues at Graz University of Technology, Austria, discovered that a cationic complex is an intermediate in the rearrangement step. They also observed that pyridine, which is a donor ligand, facilitates the displacement of one of the chloride ligands, the first step in the rearrangement.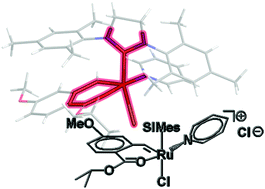 But most striking, says Slugovc, is that the chloride counterion (or, more generally, a counterion that can coordinate to ruthenium) is indispensible for the catalytic activity. Changing the counterion for the non-coordinating hexafluorophosphate ion produced an almost inactive catalyst, but the activity was triggered again by adding chloride. Slugovc says this constitutes a novel concept for switchable olefin metathesis catalysts.
Download Slugovc's ChemComm communication to find out more.