Immobilisation inside a cavity can be a very effective strategy for stabilising reactive species. In fact, earlier this year, a team of French scientists claimed in Science1 to have used this technique to elucidate the solid state crystal structure of 1,3-dimethylcyclobutadiene trapped along with carbon dioxide inside an optimised host.
But, says Henry Rzepa from Imperial College London, UK, this claim should be treated with caution as his calculations suggest that the Science report is incorrect.
Based on his quantum chemical modelling studies, Rzepa proposes that reported crystal structure in fact is not that of 1,3-dimethylcyclobutadiene and carbon dioxide, but more probably that of the precursor used to attempt to generate the pair.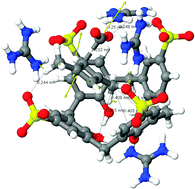 Find out more about this controversial issue in Rzepa's ChemComm communication (free to access until 25th January 2011) and let us know what you think by leaving your comments below.
For further discussion, see Crystallographic Confusion in Chemistry Views magazine and Henry Rzepa's blog.
1. Y.-M. Legrand, A. van der Lee, M. Barboiu, Science 2010, 329, 299-302