When it comes to supramolecular chemistry in water, the best lessons are learnt from nature. Enzymes and antibodies use non-covalent interactions, including hydrogen bonding, coordination to a metal centre and hydrophobic effects, to bind guests extremely strongly. Olivia Reinaud's group are following suit with their water-soluble funnel calix[6]arene receptor that complexes both Zn2+ cations and primary amines in aqueous solution.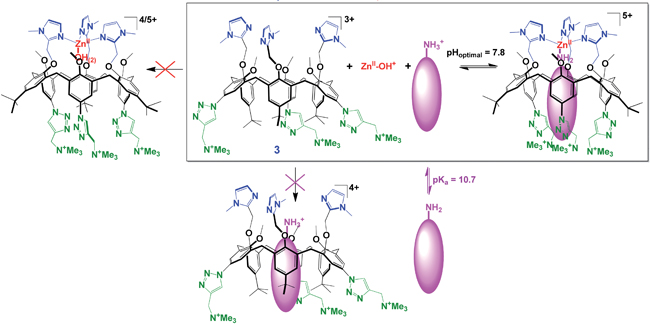 In the presence of both Zn2+ and primary amines, a complex is formed in which the Zn2+ cation is bound by the imidazole groups. The amine is bound to the Zn2+ with favourable hydrophobic interactions between the cavity of the calixarene and the alkyl chain. Interestingly, the calixarene does not complex either of these guests individually, showing that the binding is highly cooperative. This type of complex only forms with primary amines. Considering this selectivity and the type of interactions used, plus the fact that the complex forms in water near pH 7 and a pseudo pKa shift of the bound amine, the authors point out that the complex formation is highly reminiscent of the binding mode of Zn-based enzymes.
This is one of only a few examples of selective encapsulation of primary amines in water, and an inspiring step towards emulating the function of natural metalloenzymes.
Keen to read more? Download Reinaud's Chemical Science Edge article.
Posted on behalf of Cally Haynes, Chemical Science web writer.
Also of interest:
RSC Macrocyclic and Supramolecular Chemistry Meeting – 19-20 December 2011
Solvent responsive cage: inducing a pronounced reorganisation of a metallasupramolecular cage complex with a conservative change in solvent polarity